How Speculators collapsed USDJPY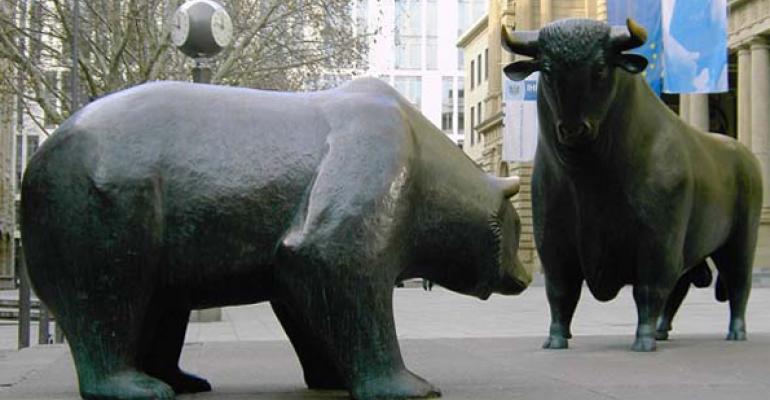 Markets have been really volatile in the last quarter of 2018. It all started with the extended Brexit saga where the whole thing spilled into British politics.
Trump added Trade Wars with never ending shady talks with Chinese government.
FED got all scared and recently downgraded their outlook for 2019. Possible rate cut could be in play this year. And this is after a series of rate hikes earlier in the year.
US stocks collapsed a significant amount and, for the first time in many years we could be looking into a first sign of a recession.
All this was topped up by a flash crash, Apple's 10% revenue downgrade and a serious slowdown in Chinese manufacturing PMI just few days ago.
Crazy indeed.
Risk sentiment has been on and off during the last few months and the FX market was difficult to trade.
Commitments of Traders analysis gave few signals in 2018. The reports were delayed few times due to Federal Holiday and the data came out too late, especially in December.
Nevertheless
There was one signal worth attention, which confirms once again how powerful C.O.T data is.
We have been watching smart money positioning for JPY futures since last October where one of the key C.O.T metrics "share of Open Interest" signalled a reversal was due in JPY futures market.
As you know, "share of Open Interest" is the most powerful metric in C.O.T analysis.
It expresses what % of the whole market is held on one side of the transaction.
If speculators hold most of the market in long or short positions, it follows that the market is overbought or oversold as there are not many traders left to take the trade.
Speculators need to offload their accumulated positions and the prices must either fall or rise due to the sheer volume of orders.
This is SUPPLY & DEMAND at work.
A "Tipping point",  as I call it is based on historical data and comes different for different markets.
It stands:
59% for EUR futures
64% for GBP futures
70% for JPY futures
69% for AUD futures and so on.
As per the below table

So, if speculators bought or sold most of the market,
There is nobody left to buy or sell
They will have to unload to cash in
The prices need to reverse
The metric is never wrong, but it might take some time for the price to finally follow through.
It can't be wrong as the speculators are the market makers and once, they run out of suckers to fill their positions, they will offload and cash in.
Its pure SUPPLY & DEMAND in play and the signal plays out the same way across all futures markets.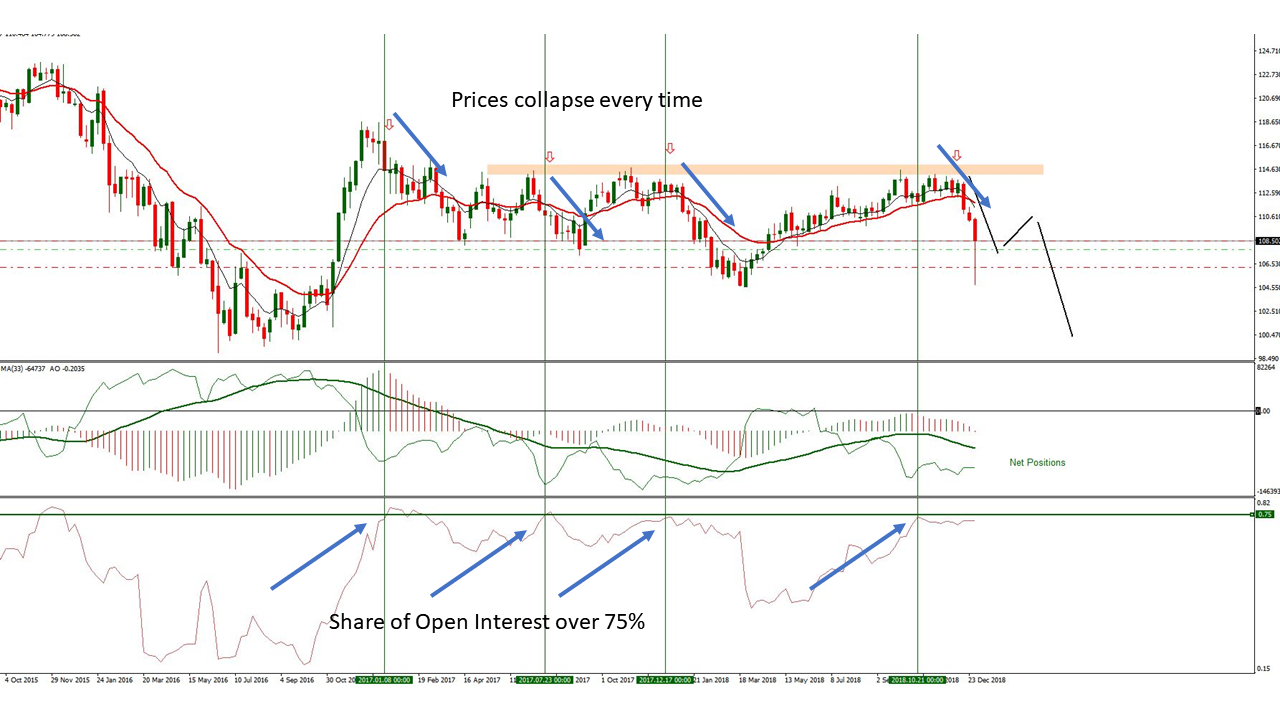 The recent collapse in USDJPY was no exception.
Our COT analysis spotted high share of open interest back in late October
In this COT report we wrote
"This week, speculators covered 8K short positions and left their longs unchanged. They were 92K net short, which is down from being 100K net short in the previous week and 115K net short week before that.

The EXTREME reading of 115K net short and 67% share of Open Interest three weeks ago marked a technical top in USDJPY.

These metrics were never wrong to call a major top or bottom before but many times the price lagged. The current price action is erratic and not in downtrend yet. We will need to break 111.50 for bear market to really take off.

My analysis from the previous week stands valid. I expect the top to be carved between 114.50 – 111.50

Strategy – no change:

A lot of bearish signals for USDJPY. This market should be sold on rallies."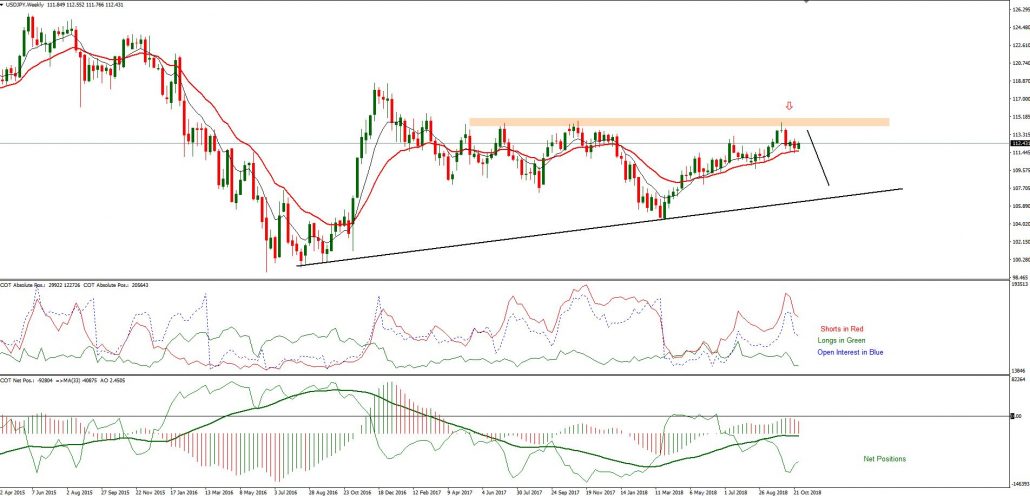 And then few weeks later in this report
"No much action to see in JPY positions. Speculators took profit for another week.
This is 4th consecutive week with smart money pulling out of JPY futures.
This week they covered 1K longs and 2.2K shorts. They were 91K net short, almost unchanged from the previous week (92K ).

The same analysis stands valid.

The price action diverges with the extremely bearish JPY positions.

The share of open interest was at 59.3%, down from the extreme 67% few weeks ago.

I expect this metric to eventually bring USDJPY way down, but the price action suggests, 114.50 could be seen before a big decline."
The same outlook remained valid for the next few weeks to finally bring USDJPY down once again.
Since then the price collapsed almost 1000 pips!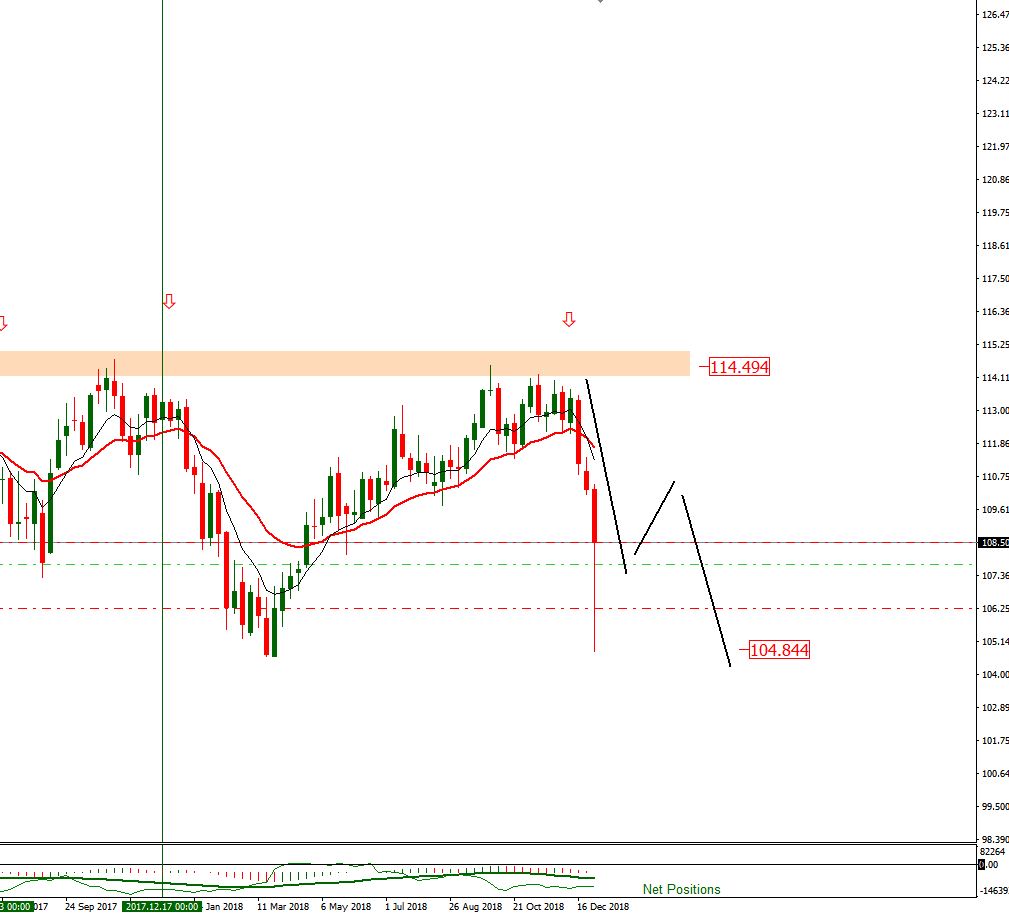 And I can tell you;
this is only a beginning of much larger decline in USDJPY
"Share of open interest" is only one of the metrics we track at Humble Traders.
There are few more as much powerful like Open interest itself or Net Positioning. All of these produce super reliable signals for long term trends in FX markets.
Many traders discount the Commitments of Traders report as a functional indicator. They are of the opinion the data lags five days hence it is invalid and cannot be used in trading.
This is BS!
Don't be fooled by this. As a professional trader, you need to model the behaviour of successful traders and always be on their side of the trade.
Commitments of traders allows you to position yourself with the smart money.
There are many signals currently forming. There are likely to establish long term trends in many markets.
These trends will last for months.
Make sure you don't missed them!
GOLD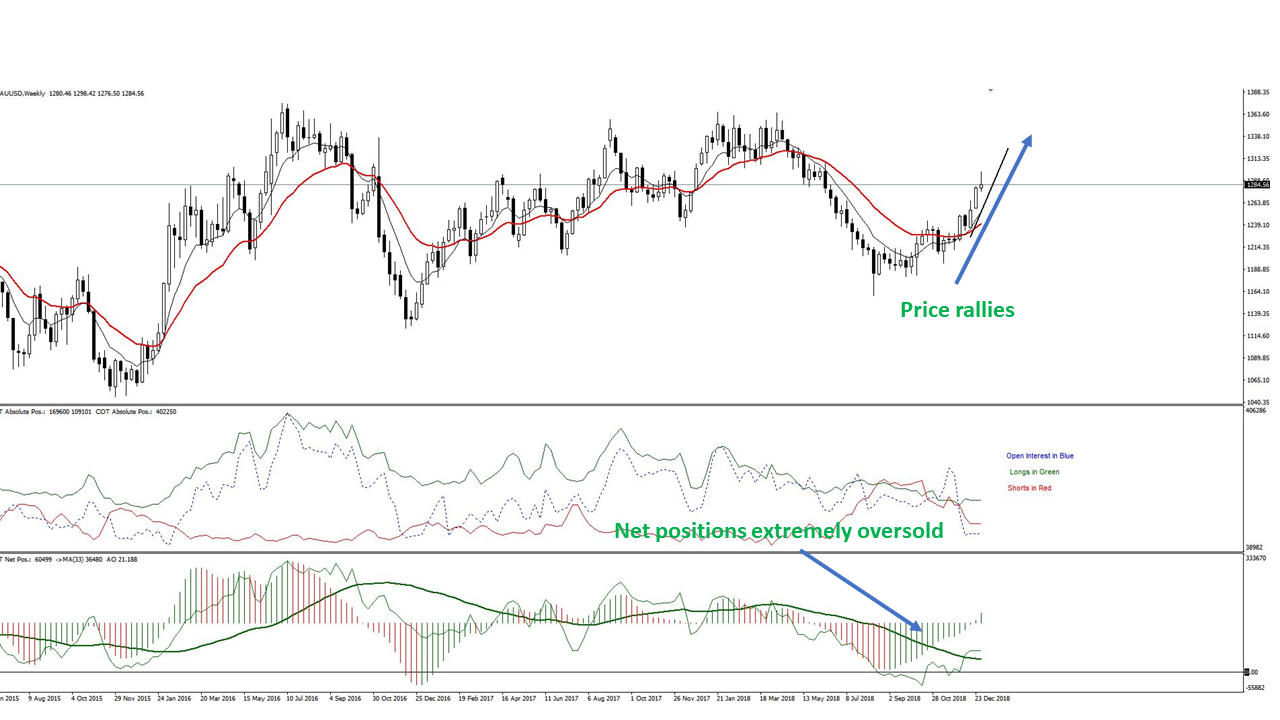 AUD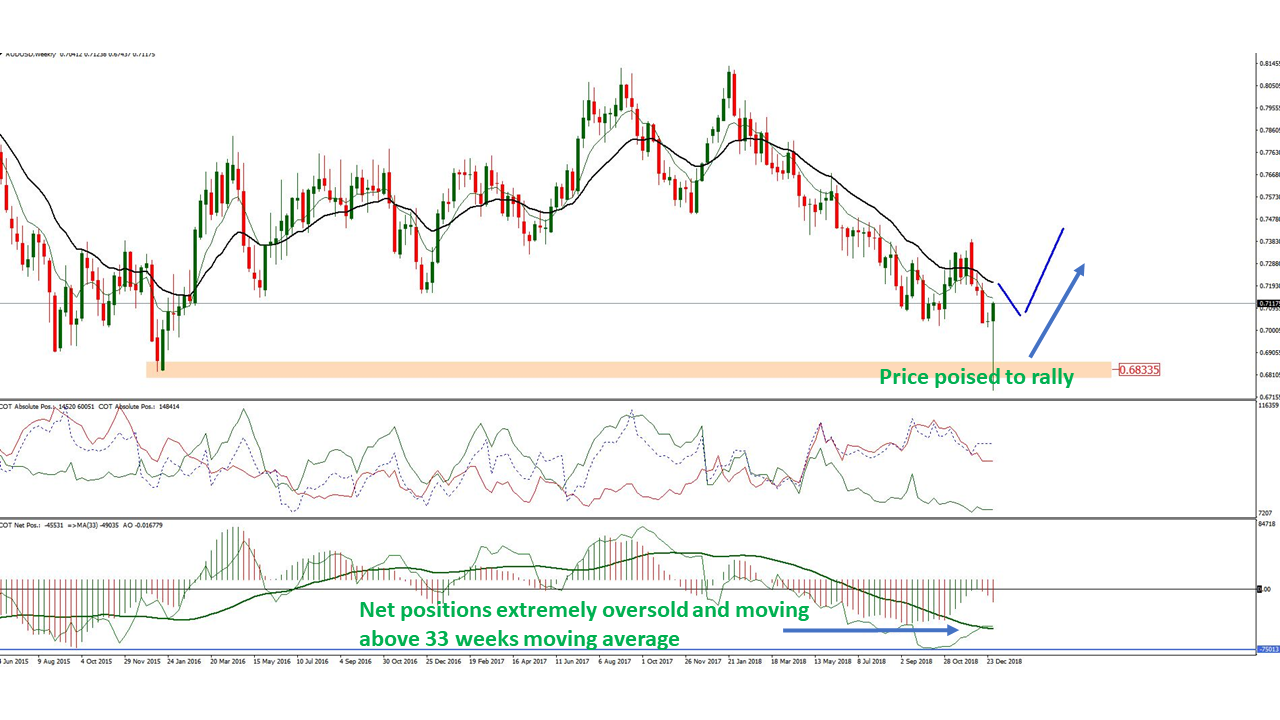 EURO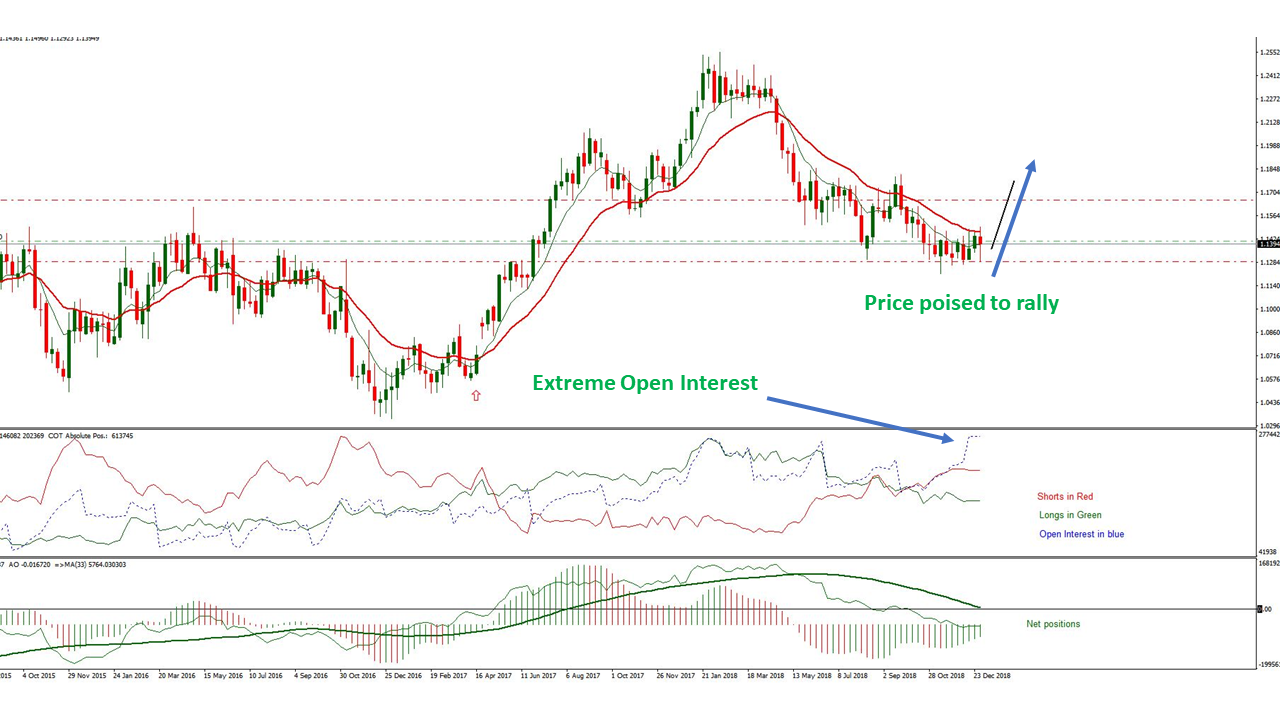 Don't ignore Speculators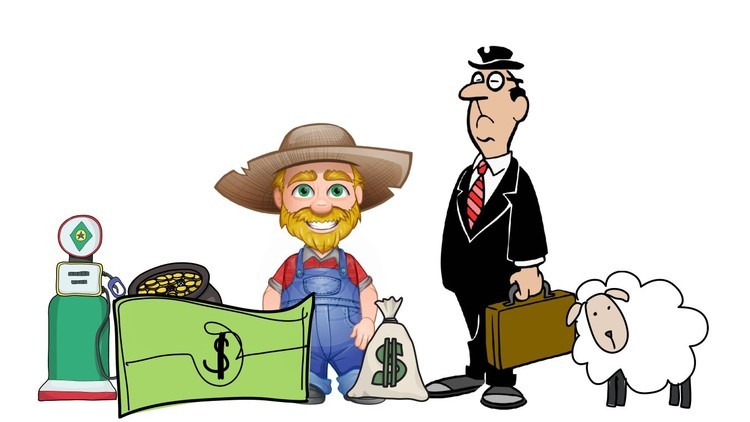 It will pay you back!
Author: Roman Sadowski
I truly believe the journey to profitability and freedom is a function of hard work, commitment, persistence and boring routines There is no magic to trading. I believe in making calm rational decisions what, when and how to trade based on a decade of intense learning. Visit us at
Humble Traders