What are the most Important Features of a Winning Trading Strategy
"A peak performance trader is totally committed to being the best and doing whatever it takes to be the best. He feels totally responsible for whatever happens and thus can learn from mistakes. These people typically have a working business plan for trading because they treat trading as a business."
Van K. Tharp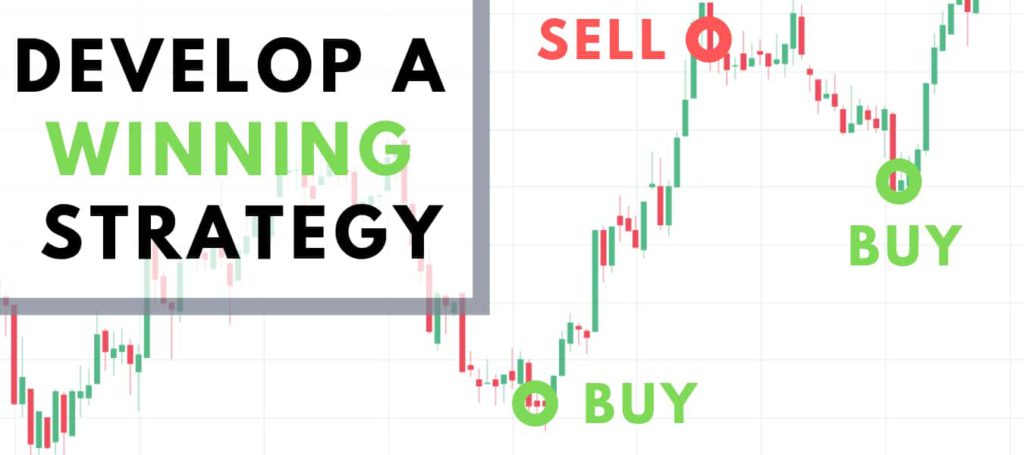 A winning strategy is the dream and desire of every trader. With a winning strategy, you will be able to trade successfully and achieve a positive equity curve and a growth in your bank account.
That's it! We are here for to make money!
Is there more to it?
Well, depending on how you see it, winning in the forex market is predicated on the strategy that you apply in the market.
We live in an age where there are so many "gurus" and self-proclaimed "professional traders", most of who peddle their systems and strategies online pumping them up to appear like they are the what they are not.
Not everyone that runs a trading channel on YouTube or runs a weekly webinar has a winning trading strategy.
Now,
As you are growing to become a professional trader in your own right, allow me guide you on how to tell a winning trading strategy apart from the rest so you can smell the bull shit fro far away!
In this article, I will teach you how to recognise a winning strategy at first glance.
To achieve this, the article is structured into sections that include
What is trading strategy and distinction between a good strategy and a bad strategy
What are 8 most important features of a trading system or strategy
Ready? Let's go!
What is a trading strategy?

Investopedia  defines a trading strategy as a method used for going long or going short in the markets based on some predefined rules used to make trading decisions.
Before going deep into this discussion, let us answer a few questions, shall we?
How important it is to understand the performance metrics in order to devise a winning strategy?
When it comes to devising a winning strategy, it is important for you to have enough data that you can rely upon and you understand what metrics you need to be looking into to gauge the strategy.
Many novice traders look at the wrong metrics when deciding if the strategy is good or not. This is because few reasons:
Humans are risk averse so we seek strategies with no losses.
Humans never learn anything so we don't care about large sample size or the past performance.
If we see a system or strategy with no losses, we tend to ignore the logic and maths.
Remember:
Accuracy is the most overrated metrics in trading.
You don't need many winners to make money
If fact, all winning trading strategies are less than 50% accurate.
so
You need to look at the right metrics over large sample size
So, what is the best way to approach this?
In few simple steps: decide on metrics, collect data and analyse the figures.
There are only few important metrics you need to look at when considering the trading strategy
The win rate of the trading strategy- is it 40%, 65% or what?
Risk to reward ratio of your strategy – are your winners bigger than your losses?
The market conditions in which it works best- Do you make money in trending markets and break even in ranges or do you lose money when the market trends?
The best time frame where it can be trades- Does it work on higher time frames or lower time frames or both?
The best currency pairs- What pairs you get the best results?
There are a number of ways you can obtain these numbers
Back testing- This is where you look at historical data to determine instances where your trading system would have yielded positive or negative results.
Demo trade – This is where you open a virtual account and trade the real markets with virtual cash. You can then use the results from your trades to determine your win rate among other metrics.
It is important to obtain the most reliable figures you can get.
Its really easy to make testing biased and come up with great stats that are just not true once you try to execute them in real time trading.
The best way to do that is to emulate real time trading conditions. This way you will act when the price is unfolding in front of you and you
"trade on the right hand side of the chart"
This way your indicators will update in real time and you will be able to know if the signals are clearly visible and tradable.
Most often people test strategies on already unfolded charts. This is really biased and you will get wrong results.
The truth is: trading in the real time is what counts and you need to know if the strategy works in real time and if you can execute it in the real time or not
The best way to do it is to use the visual mode in the Strategy tester in MetaTrader 4.
You simply:
Select your variables like:
Currency pair, Indicator or EA, data range, time frame.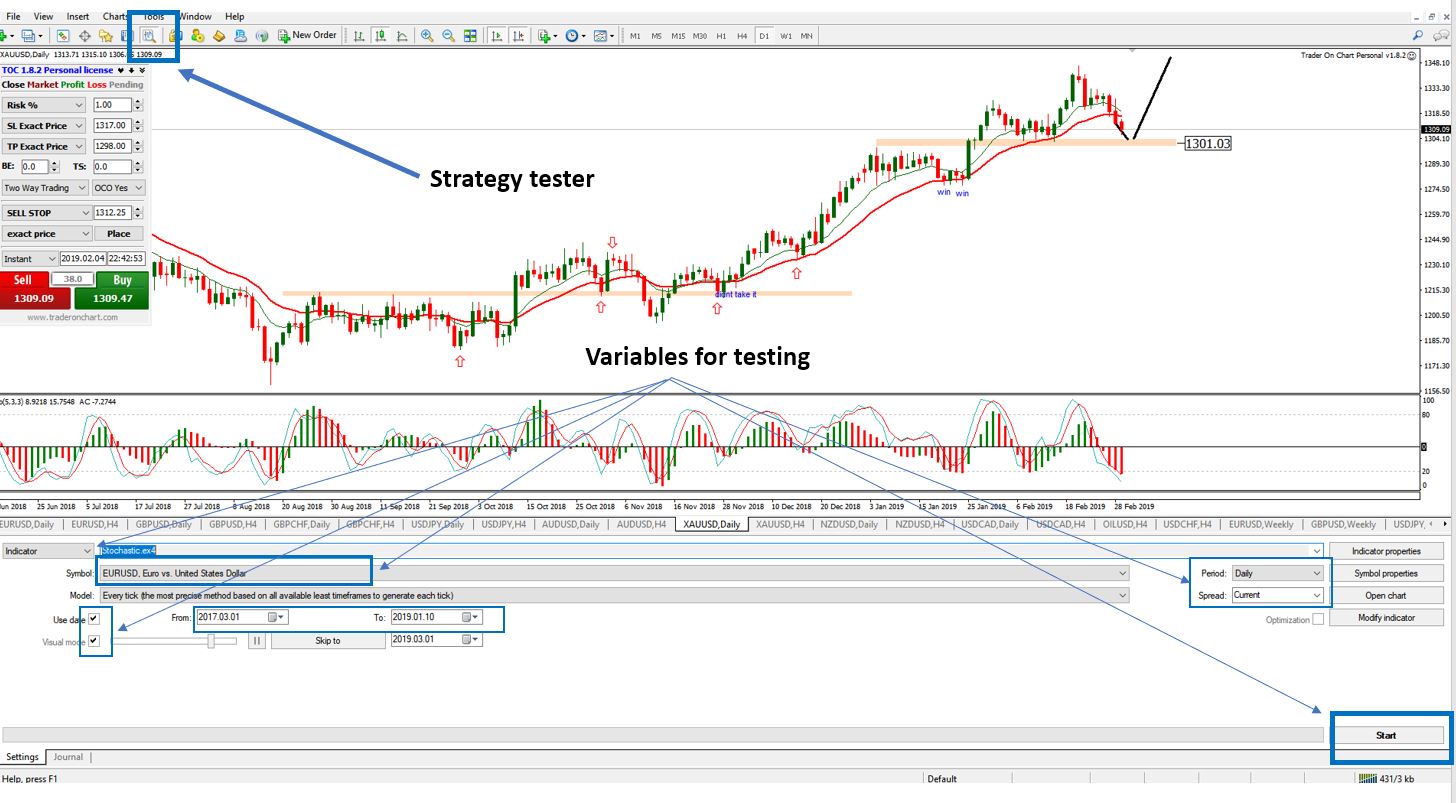 Then you hit "START" and you will see the price ticking away in front of you.
You simply emulate your strategy. Watch the price ticking in "real time" and place your trades as you would trade real money.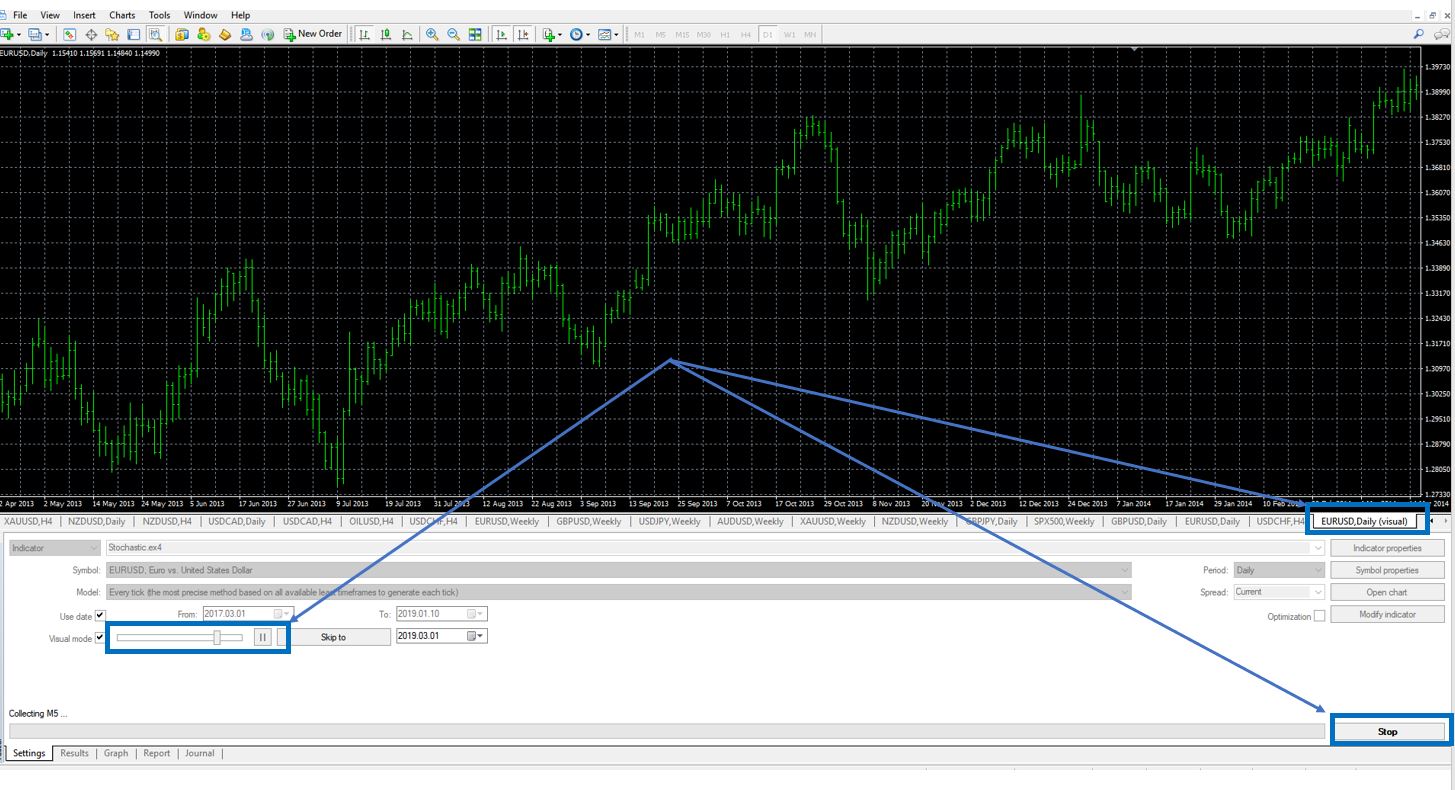 Pause, trade and start again
Record your results and
analyse your results in a spreadsheet.
Be honest with yourself. Don't sugar coat anything.
Ask yourself, Would I take this trade? Perhaps it was the middle of the night? Perhaps I would't trade such a pattern. Be prudent!
so
Do you have a winning strategy?
If the stats show otherwise, drop it and move on. Don't marry your strategy and…
Do not and I repeat, do not commit your money to the markets before you are convinced that you have a working trading strategy.
Can you gauge the soundness of a trading system by looking at a trader's equity curve?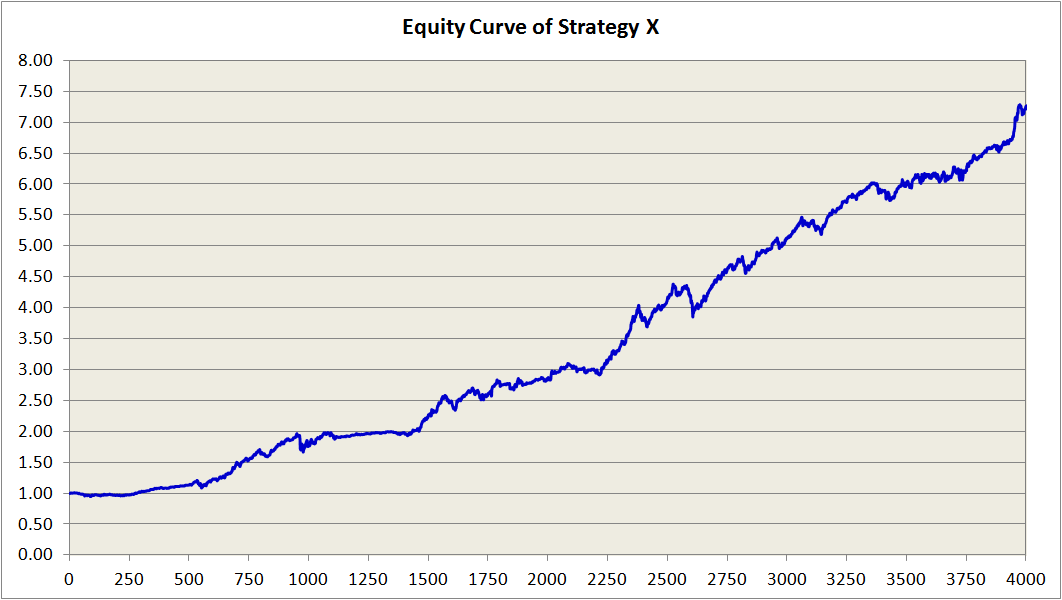 An equity curve that slopes steadily up like the one shown above is indicative of a sound trading strategy.
This equity shape must be achieve when trading trending and sideways market. If the trader achieves the above equity curve trading the sideways market below, it shows that the trader is a trend follower and well able to produce consistent results in both rising and falling markets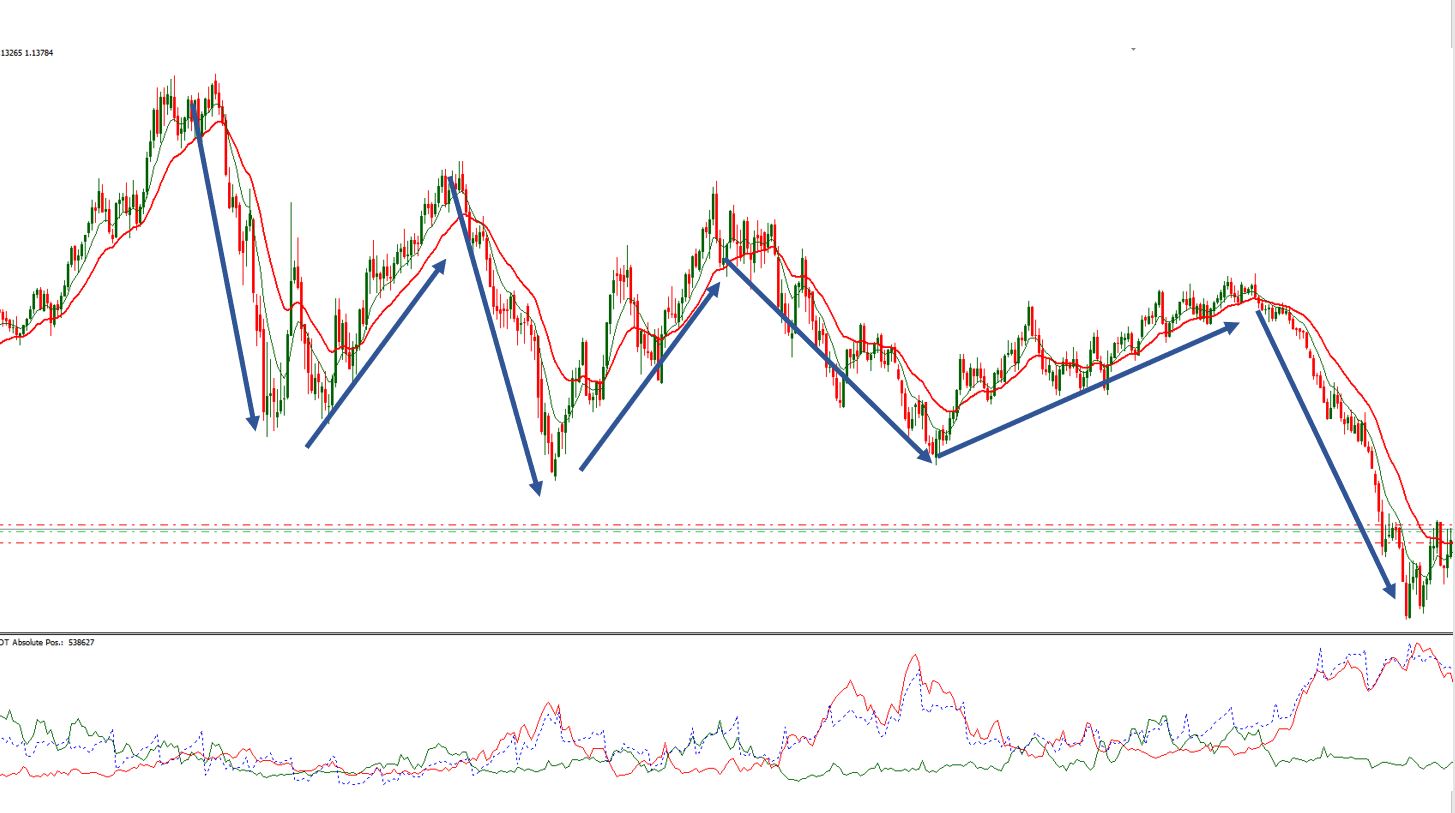 Again, considering that this equity curve is generated from about 4000 trading days , the results must be representative of the various market conditions and seasonality in the markets.
Before I forget let me remind you the importance of focusing on long term trades rather than short term trades.
Long term trading is favoured over short-term trading because with long term trading, you get enough time to make decisions.
Remember I had hinted of the importance of making sober trading decisions before clicking on a buy or sell.
Let's look at another equity curve.

The above curve is erratic and it tells me the following story:
Trader had some consistent winners in the first 20 trades
He lost almost all gains in the following 20 trades
He had few large winners afterwards and didn't trade or was breaking even for the following 40 to 125 trades
The he had a good run between 125 and 175 followed by few massive losses, wiping almost 50% of gains generated between 125 – 175
Had few massive wins around 195 and traded nothing up to 231 when he had a large win.
Unfortunately I unable to tell you what markets were traded and how did these market behaved during this time.
To me, this trade has no money management at all.
Large winners around 195 were lucky and not planned. Without them this account would be 50% of what it is
Few different approaches were tested with this account.
There is no consistency visible in this equity curve.
I would not invest in this trader as he might expose my capital to large losers
And this is how you can tell the difference between a bad trading strategy and a good one
Did you know that there are so many traders who have publicly published their trading results on a platform called myfxbook
Here is a table that I have retrieved from the site showing some of the trading strategies and their relative performance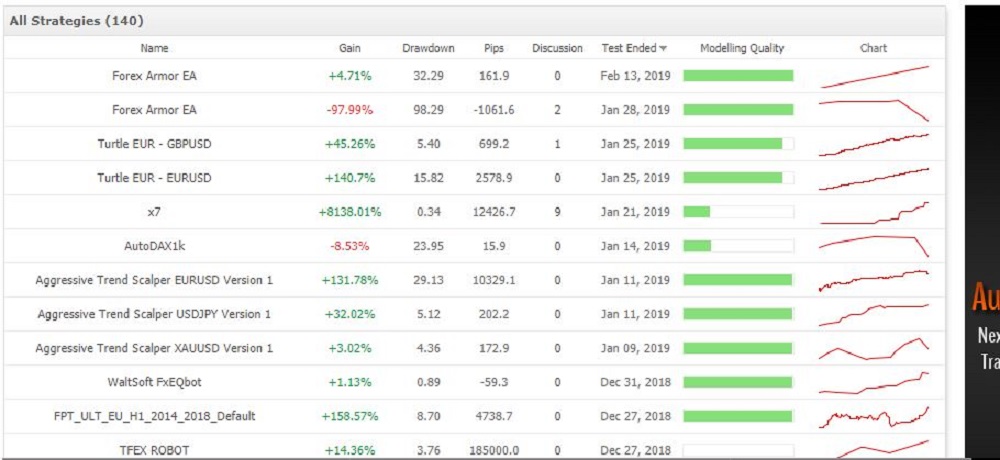 There are about 140 strategies that have been listed on the site.
You can easily check the performance metrics for the various strategies to figure out which one is a winner.
In this list, Forex Armor EA has been ranked top. Let us look at some metrics from this strategy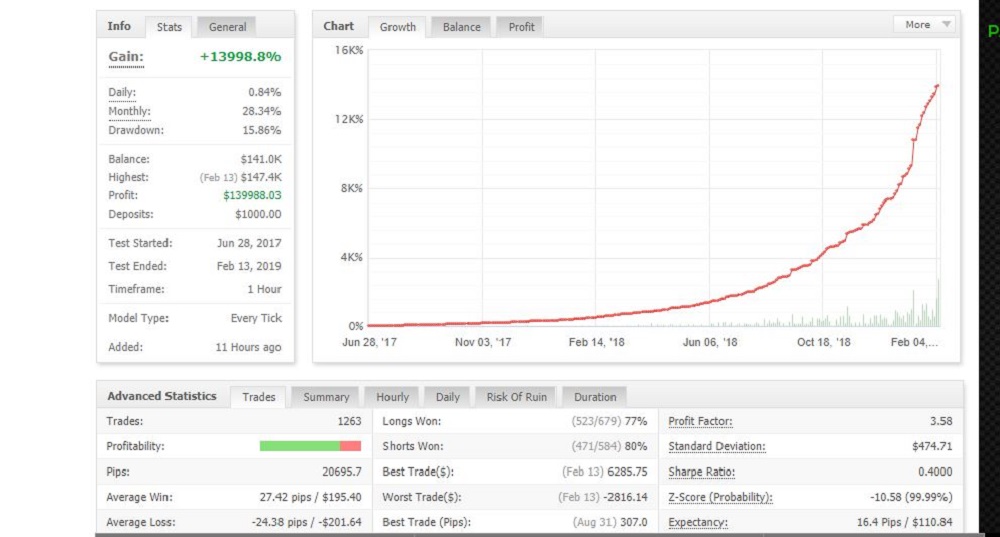 This is a positive equity curve for the Forex Armor EA which is an automated trading system.
A positive curve showing growth in equity coupled by other metrics such as a high win rate of 77% for long trades and 80% for short trades is indicative of a risky trading system.
Here, you would like to look how long this system has been trading. If this performance has been achieved over a small sample size, I would be very cautious.
High accuracy performance is statistically difficult and it is likely to revert back to long term mean at around 50%.
The system might be going through the "good run", which is likely to be followed by a "bad run" very soon. Large drawdown might be looming.
I would also like to assess the risk size and stop losses on systems like this one. Often traders achieve high accuracy by not setting stop losses and exposing the systems to large "unrealised" equity.
They cash small losses and accumulate large, unrealised losses in the background.
so
You can spot a good trading strategy by following these simple steps:
The strategy must yield a positively and consistent rising curve.
The winners must be bigger than losers.
The trader must have been trading the strategy for over 2 years.
Stop losses are must
No unrealised losses are accumulated
On the flipside,
A bad trading strategy is exactly the opposite of the good strategy.
A glance at the curves above and you can clearly see that there was a spike in equity growth then it plateaued and then started to decline until when equity dropped all the way to zero.
Some characteristics of a bad trading strategy include:
An erratic equity curves
Small wins and big losers- indicative that your risk reward is bad
Spikes in growth or loses- indicative that you do not have a well-thought-out money management plan.
One that appears to have traded well for a few months then plummeted.
What are the 8 salient features of a winning trading strategy?
1.Needs to be consistent

Check to see if the strategy yields consistent returns as will be shown by a steady rising equity curve. There should be no massive wins, massive losses or some crazy ups or downs.
Your drawdowns should not be massive. If it is a trend following strategy, your equity curve should rise smoothly.
You should make bigger wins and smaller loses and hit some break even trades during ranging market conditions.
If you are losing money or not making any money during trend runs then just know that the trend trading strategy is shit, yes pure shit!
2.Needs to yield more profits than losses

Bear this in mind, you are in the trading business to make money. So, it automatically follows that your chosen trading strategy should help you achieve this feat.
As a trader, you must understand the basics of statistics and probability. This knowledge will guide you when it comes to deciding your risk reward ratio and win rate.
For instance, if your system has a win rate of 50% and you focus on a risk reward ratio of 1:2 then it means that you are likely to win in the long run.
3.Needs to be repeatable

A good trading strategy is one that is repeatable. What do I mean? I mean that your trading system should be able to yield wins regardless of market conditions or seasons.
The strategy should not just work today but should be resilient enough to work in the future too.
Such a strategy should be able to protect you in seasons of boom and recession.
4.Needs to be non-subjective

Most of the trading systems available today are subjective in nature. They are thus because of the signals used to formulate them.
For instance, indicators are subjective because they repaint, technical analysis is subjective and that is why when you place five traders in a room and ask them to analyse a pair like EURUSD you are likely to get five different analysis.
The only non-subjective strategy is one based on price action. The price has 4 variables: OPEN, HIGH, LOW, CLOSE. We cannot dispute if the price closed or not, it either closed or it didn't.
These variable are non-subjective. Other patterns like head and shoulders are subject to discussion and opinion. Some traders will see it, while others will see other patterns.
You cannot base your strategy on subjectivity. It will confuse you and you will not be able to make clear, repeatable decisions.
5.Needs to fit your personality as a trader

Do you know who you are as a trader? The secret to success in the markets is by first knowing self.
Trading is personal and your personality plays an important role in determining whether you will be successful in the long run or not.
You should choose a trading system that agrees with your personality. There are trading strategies that are fit for scalpers, some for day traders, some for swing traders.
Choose a strategy that agrees with your personality.
Trend following trader by nature will fail trying to trade reversals.
Swing trader by nature will never make money trading 15 min charts etc.
Look into a mirror and ask yourself; What kind of trader are you?
6.Need to generate signals at the right trading session

There are three main trading sessions – Asia, London and New York. Asia is slow moving while New York and London sessions are fast moving because they are very liquid.
Remember, for you to profit from a trading strategy, it has to fire signals when you are in the market.
It is fruitless if a trading strategy generates tradable signals when you are asleep.
7.Needs to generate enough signals for the trader

The signals generated by the trading system should be sufficient to ensure that the trader gets to double his or her account in a period of one year.
A trading system is not adequate if it only generates a tradable signal once after every month.
Even if your hit rate is 80%, you wont make money if you don't trade enough
8.Needs to generate reasonable returns

Perhaps this should be the very first characteristic of a winning trading strategy. You have to make sure that it generates returns on a consistent basis.
The returns generated should make sense to you as a trader. Remember, you are trading for the money and trading is your business.
Therefore, don't waste precious time sticking with a trading strategy that does not yield returns that commensurate with the amount of effort and dedication you bring to the market.
Conclusion
There you have it friend, the features of a winning trading strategy have been made bare.
It is now up to you to check all the trading strategies you come across or any that you might develop in your trading career against these characteristics.
Make sure that the trading strategy yields a smooth equity curve, agrees with your personality and generates consistent results with reasonable returns.
You should also make sure that the number and size of winners generated by the trading system exceed the number and size of losers.
By so doing, you will assure yourself of longevity in the markets.