The Weekly Commitments of Traders Report
Know what the "smart money" is up to
The Commitments of Traders Report is issued by CFTC.
It reports all open positions in futures markets of three main groups of traders:
Commercial Traders – Hedgers
Non-Commercial Traders – Money Managers
Non-Reportable – Retail market
The report breaks down each Tuesday's Open Interest and gives us a powerful view on what exactly the big guys have been doing in the marketplace and what their plans might be.
It is issued every Friday and includes data from Tuesday to Tuesday.
The three days prior to the release date are not included.
This is an essential tool for gauging long term sentiment in futures markets.
NOTE:
In this report, we cover EURO, GBP, AUD, JPY, CAD, and we focus on Non-Commercial traders as an indication of a profit driven bias.
---
---
C.O.T Positioning
EURUSD: Bullish
GBPUSD: Bearish
AUDUSD: Neutral
USDJPY: Bearish
USDCAD: Neutral
---
---
EURO – Euro Futures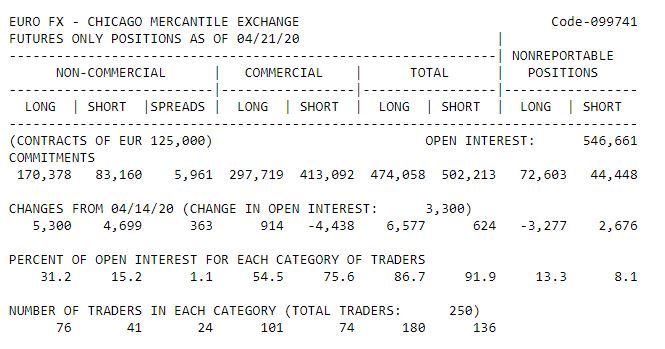 My Bias: Bullish
Last week's video conference of members of the European Council to discuss the EU's response to the Covid-19 outbreak again highlighted the slow pace and complexity of decision making by the bloc's leaders.
Combined with a crash in IHS Markit's composite purchasing managers'index for the Eurozone in April to 13.5, by far its lowest reading since the survey began in mid-1998, it's hard to see anything other than a further decline in the Euro.
Euro price at risk of further losses
The latest purchasing managers' indexes for April, released late last week, were uniformly bad, confirming that the global economy will be hit hard by the Covid-19 pandemic. However, the PMIs for the Eurozone still stood out as particularly weak, with the composite index for the region down to 13.5 – by far its lowest reading since the survey began in mid-1998 and considerably below all forecasts in a poll by the Reuters news agency.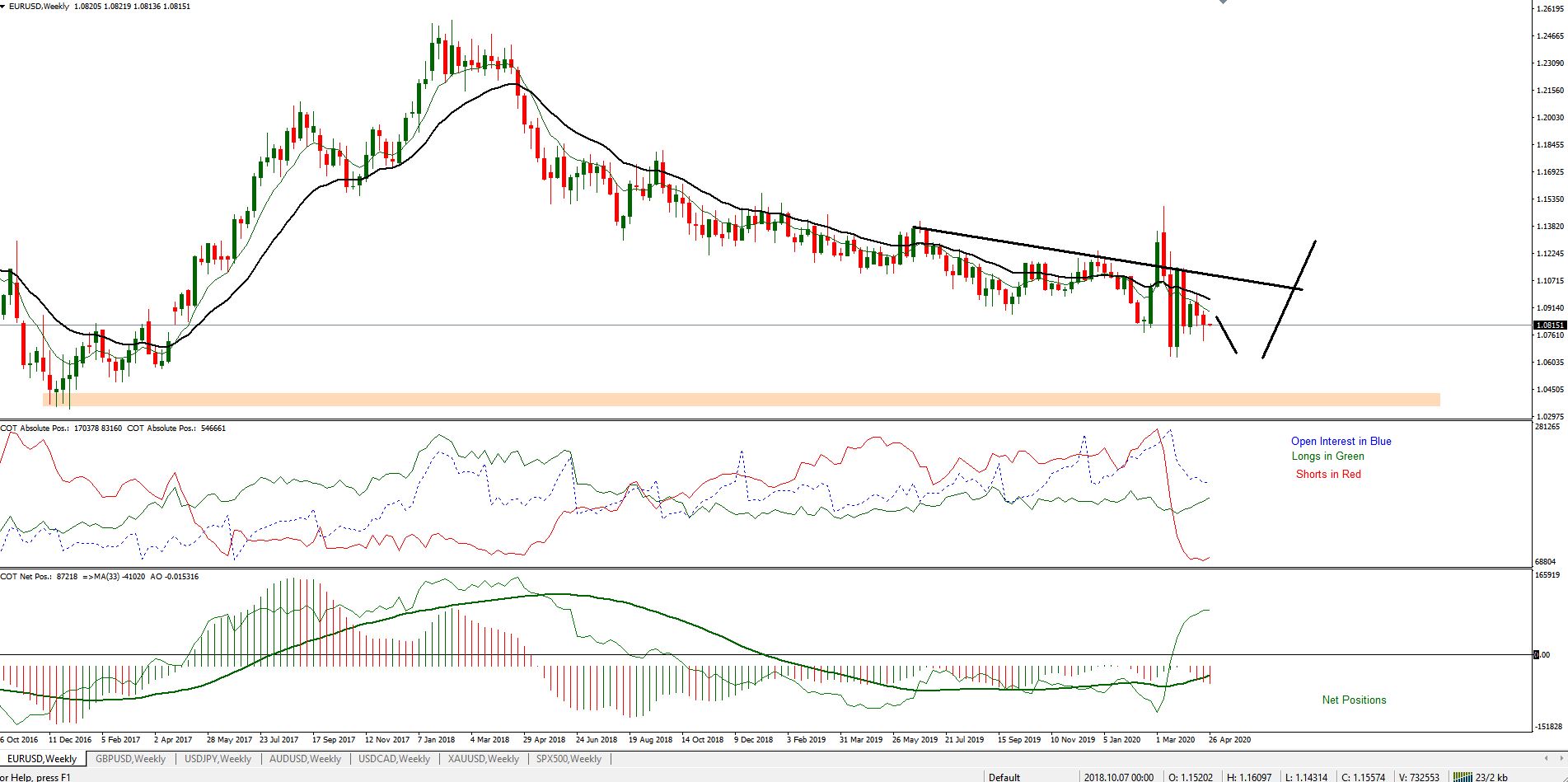 Positions:
After being bearish in the previous week, speculators added new positions to both sides of the transaction. They increased long contracts by 5.3K and short contracts by 4.7K. They were 87.2K net long, which was only slightly changed from 86.6K in the week before. The speculative net positions trend above the 33 weeks moving average which suggests we are still bullish on Eur futures. The price action has been trading downwards, against the market sentiment. This creates an opportunity to buy EURUSD on dips.
Strategy:
Buy EURUSD on dips.
---
---
GBP – British Pound Future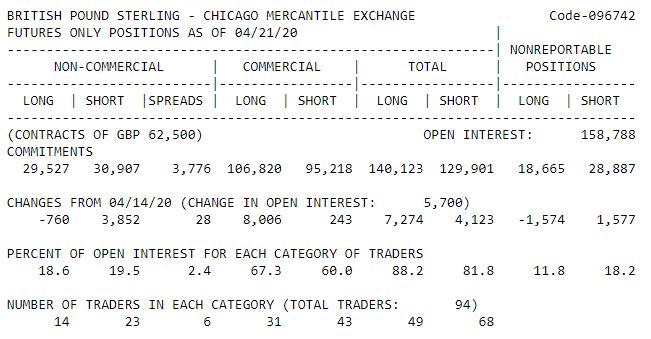 My Bias: Bearish GBPUSD
Generally, GBP/USD isn't providing much of a directional cue at the moment after a fast and furious March, early April. Is the recent weakness a pullback or the beginning of a larger decline? It may take a little time to figure that out, but there are levels to keep an eye on.
If the low from last week can maintain, then we may have a higher low from the one seen earlier in the month. If this is the case, then it is possible the trend off the panic March low will continue. It won't be long though before a test of significant resistance.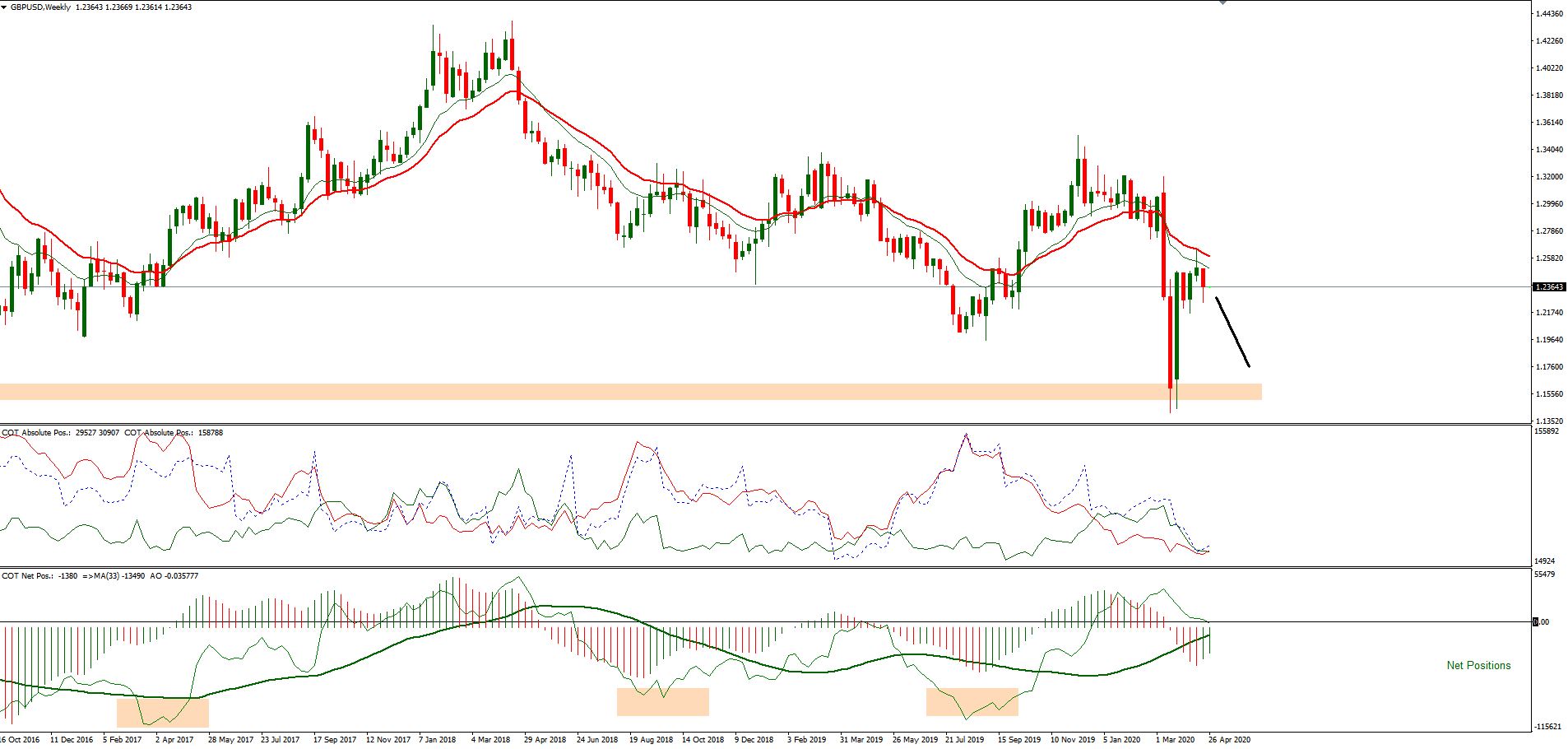 Positions:
The Cable, as expected, was down this week. The pair closed at 1.2365 on Friday. It was in line with the current speculative sentiment. This week speculators covered 760 long positions and added fresh 3.8K short contracts. This put them into being net short by a 1.3K contracts. They are net short for the first time this year. If the selling continues we are likely to see more downside in GBPUSD market in the coming weeks.
Strategy:
Sell GBPUSD on rallies
---
---
JPY -Japanese Yen Futures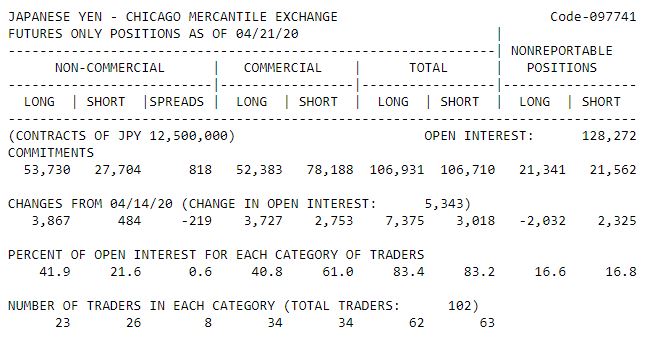 My Bias: Bearish USDJPY
USD/JPY is trading in a tight consolidating price range around $107 to $108 over the past 10 days since April 15, 2020. Due to a lack of momentum and economy slowdown, Japanese Yen is trading below the major daily MAs viz., 50-day and 200-day. The pair is ending the week with a similar momentum and around the same trading price from where it began due to the dearth of traction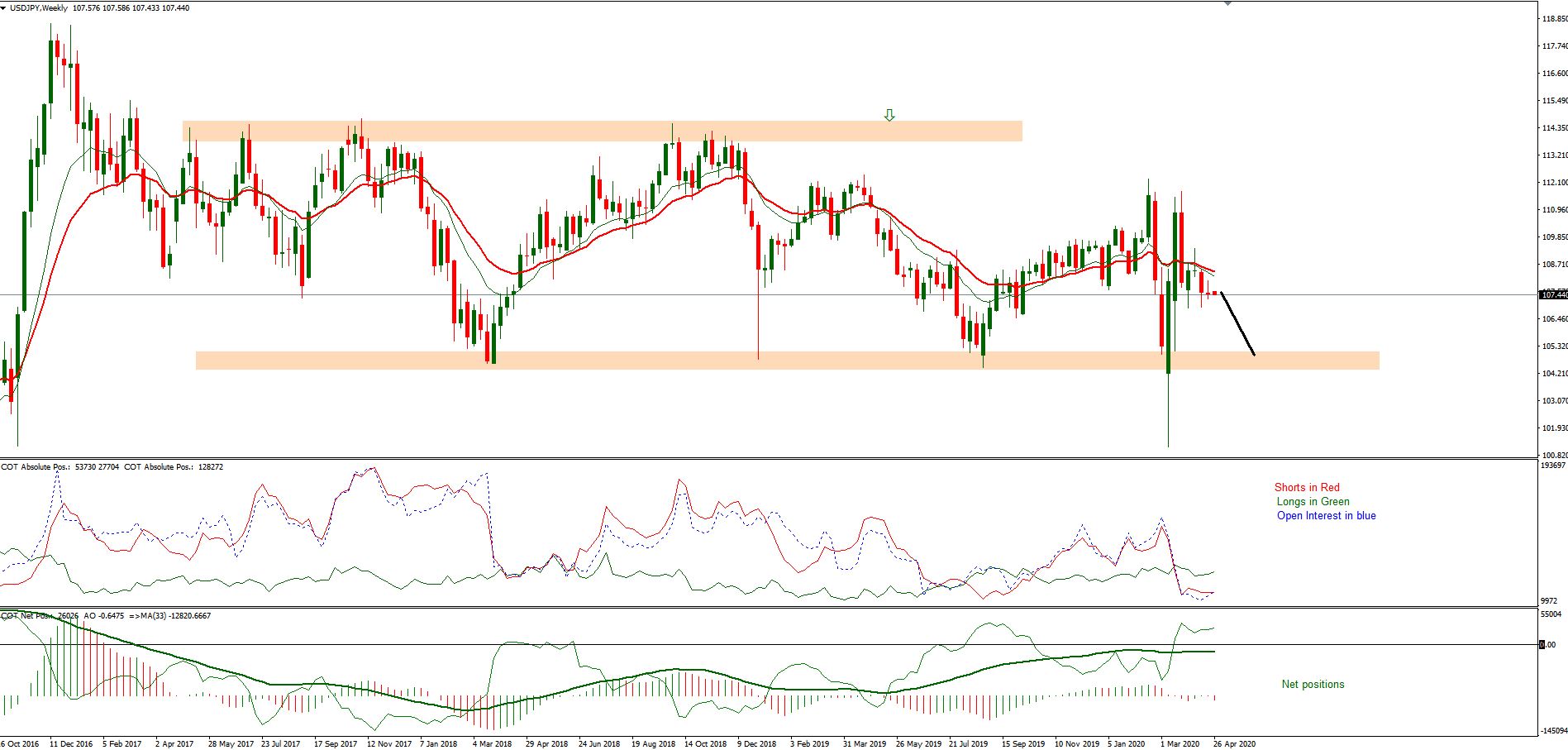 Positions:
Speculators were bearish on JPY futures yet for another week. This time they added 3.8K new long positions and only 484 short positions. Speculators were 26K net long, up from being 22.6K in the previous week.The net speculative positions trend above 33 weeks moving average. All these signals are strongly bearish and the price action is also pointing to the downside. I expect more declines in USDJPY prices.
Strategy:
Sell USDJPY on rallies
---
---
AUD -Australian Dollar Futures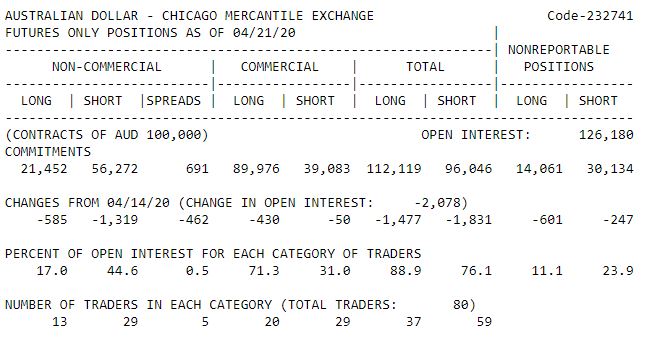 My Bias: Neutral AUDUSD
The market seems to be trying to figure out whether or not we can continue to see global growth, and although China is going back to work, the reality is nobody is buying their products. Demand has cratered, so one would have to believe that sooner or later the Australian dollar will feel the punch. The RBA is likely to continue to stimulate the economy as the Australian economy is entering its first recession in over 30 years.
Positions:
Speculators took profit again this week. They covered 585 long positions and 1.3K short positions. They were 34.8K net short, which was only a small bit changed from the previous week. Although the AUDUSD price is recovering from the recent carnage, there are no bullish signals in the C.O.T analysis.
Strategy:
Pause
---
---
CAD – Canadian Dollar Futures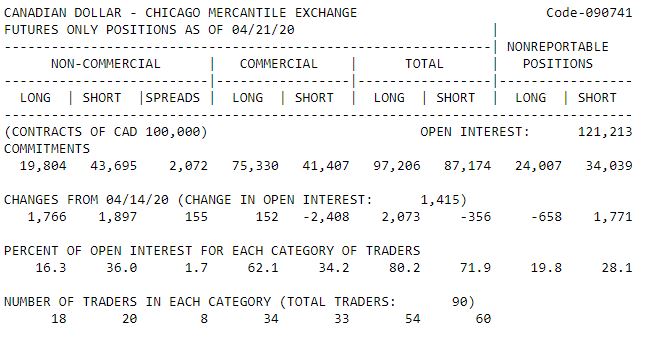 My Bias: Neutral USDCAD
The Canadian dollar is the worst-performing major G-10 currency pair since Friday's close and it's all because of free-falling oil prices. West Texas Intermediate (WTI) plunged from $18.27 U.S./barrel at Friday's close to $13.00/b in early Toronto trading due to a combination of technical factors and storage constraints.
Members of the Organization of the Petroleum Exporting Countries, Russia and U.S. producers are pumping crude in a race for market share before the May 1 production cuts come into effect, and there is an extreme shortage of buyers due to the coronavirus pandemic. Finding storage is a problem with oil-tankers holding 160 million barrels as of Friday, compared to 80 million barrels at the beginning of the month.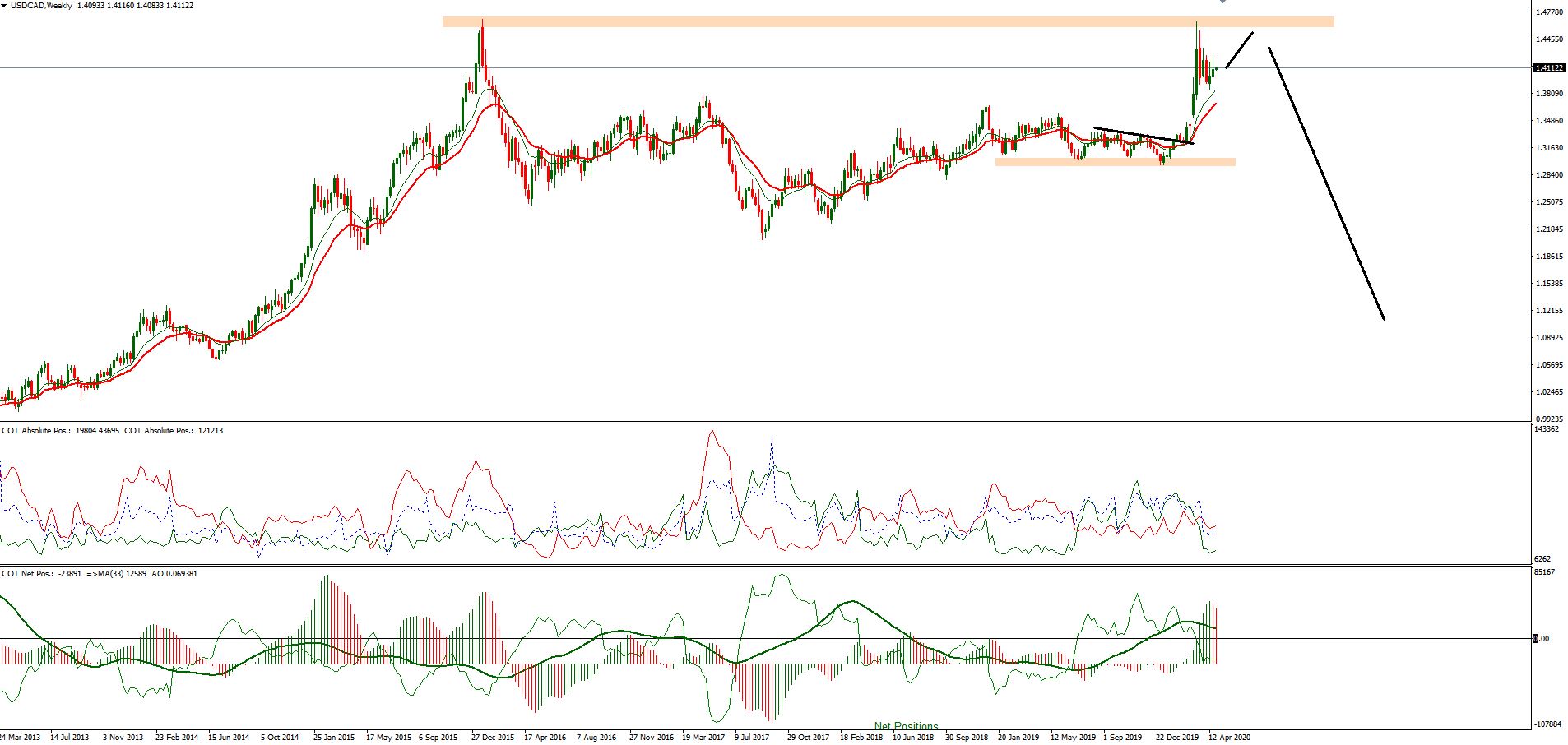 Positions:
Once again, there was only a small adjustment in CAD positions. This week speculators added 1.7K new long positions and 1.9K short positions. They were 23.9K net short, which was almost unchanged from the previous week. I don't expect any movement in USDCAD prices based on the above signals.
Strategy:
Pause
---
---

TRY OUR POPULAR COURSES & STRATEGIES

Dan
Thank you so much for your concern and support ever since I subscribed to HumbleTraders, it has really helped me immensely.
Your weekly fundamental analysis(COT REPORT), Daily Technical analysis and the risk event tracker are the best analysis I have come across so far, I unsubscribed to all other trading sites and decided to only concentrate on HumbleTraders because it was giving me all that I wanted in order to understand the market.
Emmanuel
Just wanted to say that your overall trading technique is really good including your daily/weekly analysis . So thank you for this. It's taken a while to get to where I am and I can see why you do things the way you do.
Tanner
"You have a very good blend of technical and fundamental analysis. To be honest I wish I found you a long time ago, I have been through so many programs and mentors that its ridiculous. I have adopted a trading style that works for me and as long as I stay disciplined with trade size I do well overall."
Steve
Hello I trade based an the work of larry Williams and Stephen briese and there knowledge of the COT report. Two living legends, and after reading your analysis during my free trial I now know I am dealing with another legend, I look forward to the future and what you have to teach.
Simone
Hi Roman, I'd like to say I have learned a lot from using your strategies, fundamentally and technically. Thanks for making trading more clearer and simplified. Please keep up the good work and thank you very much.
Carlton
I wont lie. Your services are exceptional. I have been on the trial membership for now but i don't see a reason NOT to continue. I have joined a lot of services like this just to compare and see which one suites me particularly, BUT not only does HUMBLE TRADERS suite me,I'm sure it can suite everyone out there!!! Without doubt you guys are the best. You make trading soo easy,,hell trading is easy only if you trading with the right guys AND you guys are the right ones.
Frank
I have found Roman's analysis to be consistently reliable and accurate. Their customer service is excellent and they always answer queries promptly. Really enjoying the analysis and learning a lot as I go.
Martin
Just wanted to share the fun. I've been a member for a few hours now, and based upon your USDJPY analysis going into Wednesday, I placed a short trade before taking my family out for sandwiches this evening. When we returned, I banked +56 pips! Off to a fantastic start.
Martin
Denis
Humbletraders is a breath of fresh air. Their signals and analysis are both easy to follow and consistently profitable. On the occasion that I have any questions, it is great to be able to draw on Roman's impressive knowledge of trading. Thanks for helping me get my trading back on track.
Scott
Morning,
Thank you for sorting this out so quickly and for the refund 🙂
All sorted and have access… as a side note, really enjoying the analysis and learning a lot as I go.
Cheers