The Weekly Commitments of Traders Report
Know what the "smart money" is up to
The Commitments of Traders Report is issued by CFTC.
It reports all open positions in futures markets of three main groups of traders:
Commercial Traders – Hedgers
Non-Commercial Traders – Money Managers
Non-Reportable – Retail market
The report breaks down each Tuesday's Open Interest and gives us a powerful view on what exactly the big guys have been doing in the marketplace and what their plans might be.
It is issued every Friday and includes data from Tuesday to Tuesday.
The three days prior to the release date are not included.
This is an essential tool for gauging long term sentiment in futures markets.
NOTE:
In this report, we cover EURO, GBP, AUD, JPY, CAD, and we focus on Non-Commercial traders as an indication of a profit driven bias.
---
---
C.O.T Positioning
EURUSD: Bearish
GBPUSD: Bearish
AUDUSD: Neutral
USDJPY: Bearish
USDCAD: Neutral
---
---
EURO – Euro Futures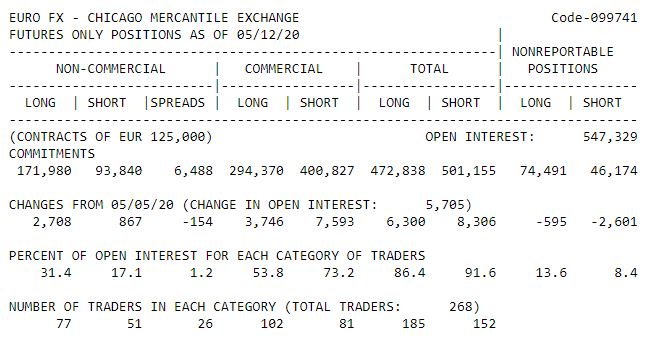 My Bias: Bullish
"EUR/USD should remain stuck around the 1.08 level next week. The data calendar does not suggest meaningful risks to the cross in either direction. In the US, the FOMC Minutes (Wed) should not bring much surprise, with the committee likely further downplaying the odds of negative interest rates. The initial jobless claims (Thursday) are likely to decline to 2.5 million as the re-opening of the economy gathers pace. This is still a dismal number, but less bad than what we seen previously. In the eurozone, the forward-looking May PMIs (Fri) should recover from the record lows. If anything, the latter may provide some upside potential to the cross at the end of the week.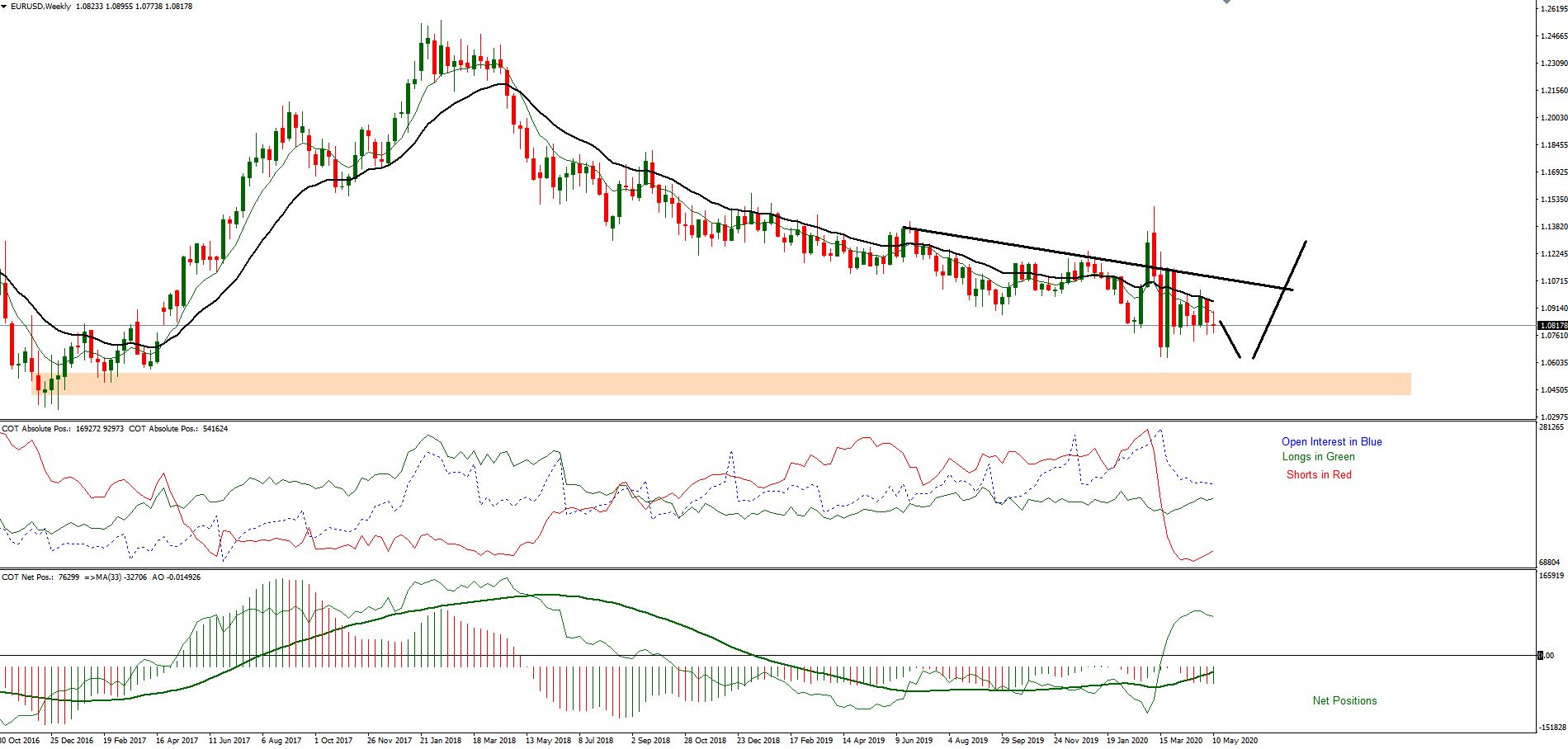 Positions:
Speculators added new 2.7K long positions and, at the same time they added only 867 short positions to their portfolios. They added a total of 4.7K longs in the last weeks and 6.2K shorts. This would suggest some bearish bias but a very weak one. This week, they were 78.1K net long, which was changed from 76.3K in the previous week.The price action ( EURUSD ) was unchanged last week and the speculative positions are not showing any clear direction. I would like to wait and see if we have any meaningful changes in positions next week.
Strategy:
Pause
---
---
GBP – British Pound Future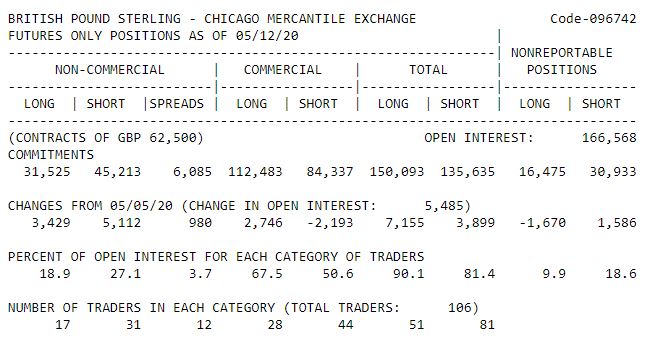 My Bias: Bearish GBPUSD
The Pound is trading on the back foot following a report from the Office of Budget Responsibility which showed that the UK government borrowing was on course to reach £300 billion in 2020-21. This would put the budget deficit at 15.2% of GDP, the highest level since World War 2, as the government increases spending to keep the UK economy afloat during the coronavirus crisis.
The OBR warned that the actual figure is likely to be higher as it doesn't include the extension of the government's job retention scheme. Earlier this week Chancellor Rishi Sunak announced that the furlough programme will be extended to October, although with some contribution from employers. The scheme has so far cost £70 billion through to July.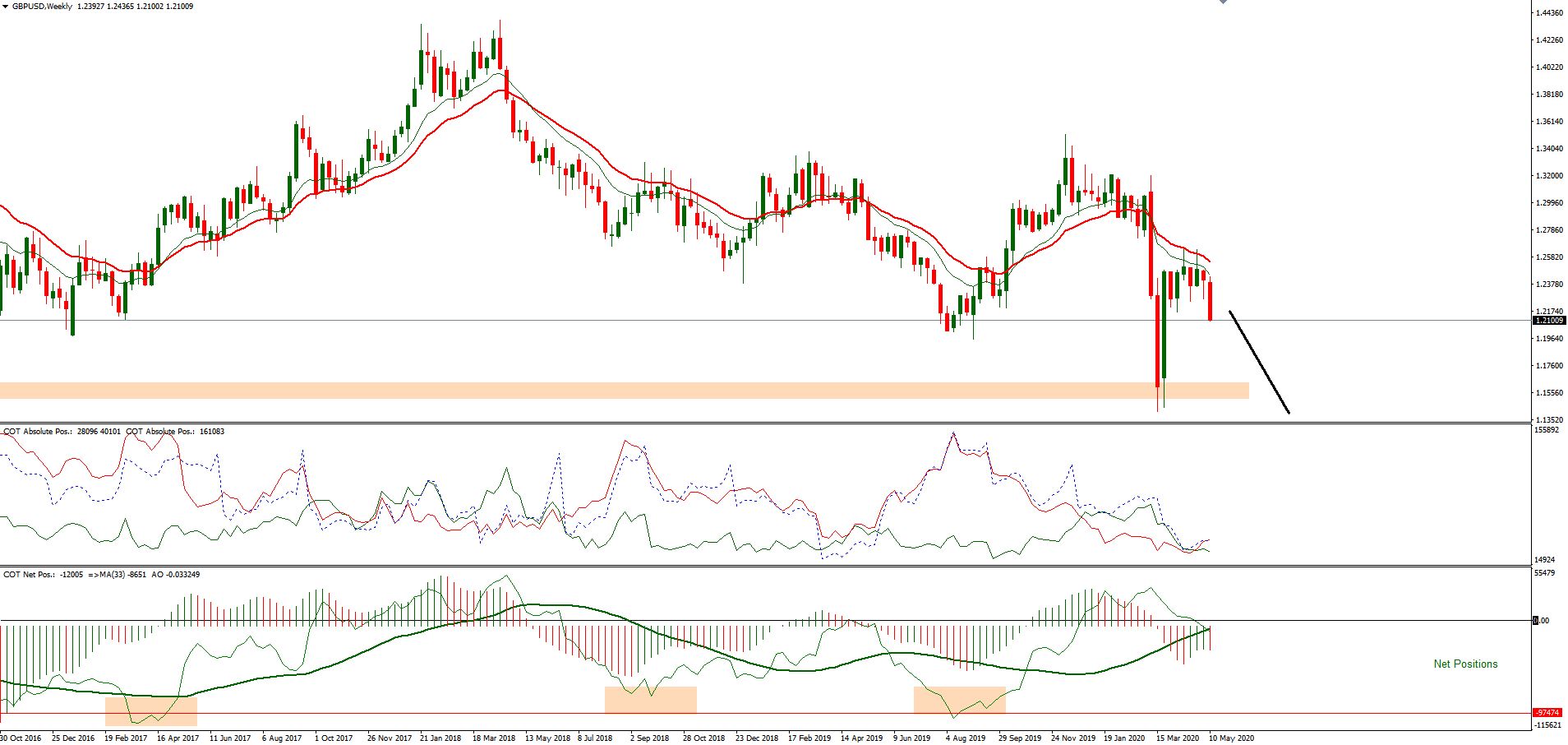 Positions:
After being strongly bearish in the previous week, speculators added new positions on both sides of the transaction. They added 3.4K of long positions and 5.1K short positions. They were 13.7K net short, which was less from 12K in the previous week and lowest since they became net short. I expect the current downtrend to continue in the coming weeks.
Strategy:
Sell GBPUSD on rallies
---
---
JPY -Japanese Yen Futures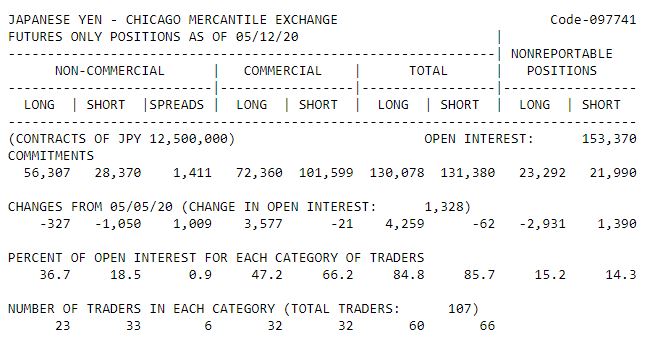 My Bias: Bearish USDJPY
The US dollar initially fell during the trading session on Thursday but found enough support below the ¥107 level to turn around and show signs of strength. The market looks highly likely to see a lot of volatility, as the pair tends to be sensitive to the overall risk appetite of traders. A lot of times you will see the S&P 500 greatly influenced what happens next, and clearly of the upward swing in the stock markets in the United States during the day helped the situation.
The market has shown a proclivity to hang around the ¥107 level, as it is a large, round, psychologically significant figure and of course the previous support level that has been massive resistance. The fact that we have gone back and forth through this area tells me that we are probably trying to get rid of the meaning of this level, at least as far as its importance. The 50 day EMA is above and is sloping lower as it is painted on the chart in red. It has offered a significant amount of resistance recently, and therefore should be paid attention to. If we break down below the candlestick during the trading session on Thursday, then obviously it is a very bearish sign. At that point, it is likely that the market continues to go much lower.
Positions:
Speculators took profit this week. They covered 327 long contracts and 1K of their short contracts.They were 27.9K netb long, which was only a small bit changed from 27.2K in the previous week.The price action still points to the downside ( usdjpy ) but with speculators being less bullish, perhaps the bottom is near. My bias remains bearish until there are more signals otherwise.
Strategy – no change:
Sell USDJPY on rallies
---
---
AUD -Australian Dollar Futures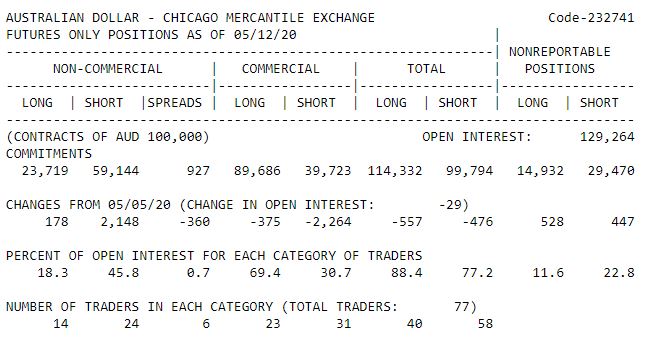 My Bias: Neutral AUDUSD
The Australian Dollar had started the session on the front foot following some bright spots in Chinese data, which overshadowed threats from President Trump to cut ties with China.
Chinese industrial production jumped 3.9% month on month in April, well above the 1.5% increase forecast. The figures boosted optimism that the world's second largest economy was progressing well in restarting industry after the covid-19 lockdown.
Chinese retail sales were slightly more disappointing, down -7.5% against an expected -7% drop. However, this was a substantial improvement from -15% decline in March.
China is Australia's largest trading partner. The Australian Dollar is often considered a liquid proxy for China.
There is no more high impacting Australian data due to be released this week. Investors will now look ahead to the release of the minutes from the latest Reserve Bank of Australia monetary policy meeting on Tuesday.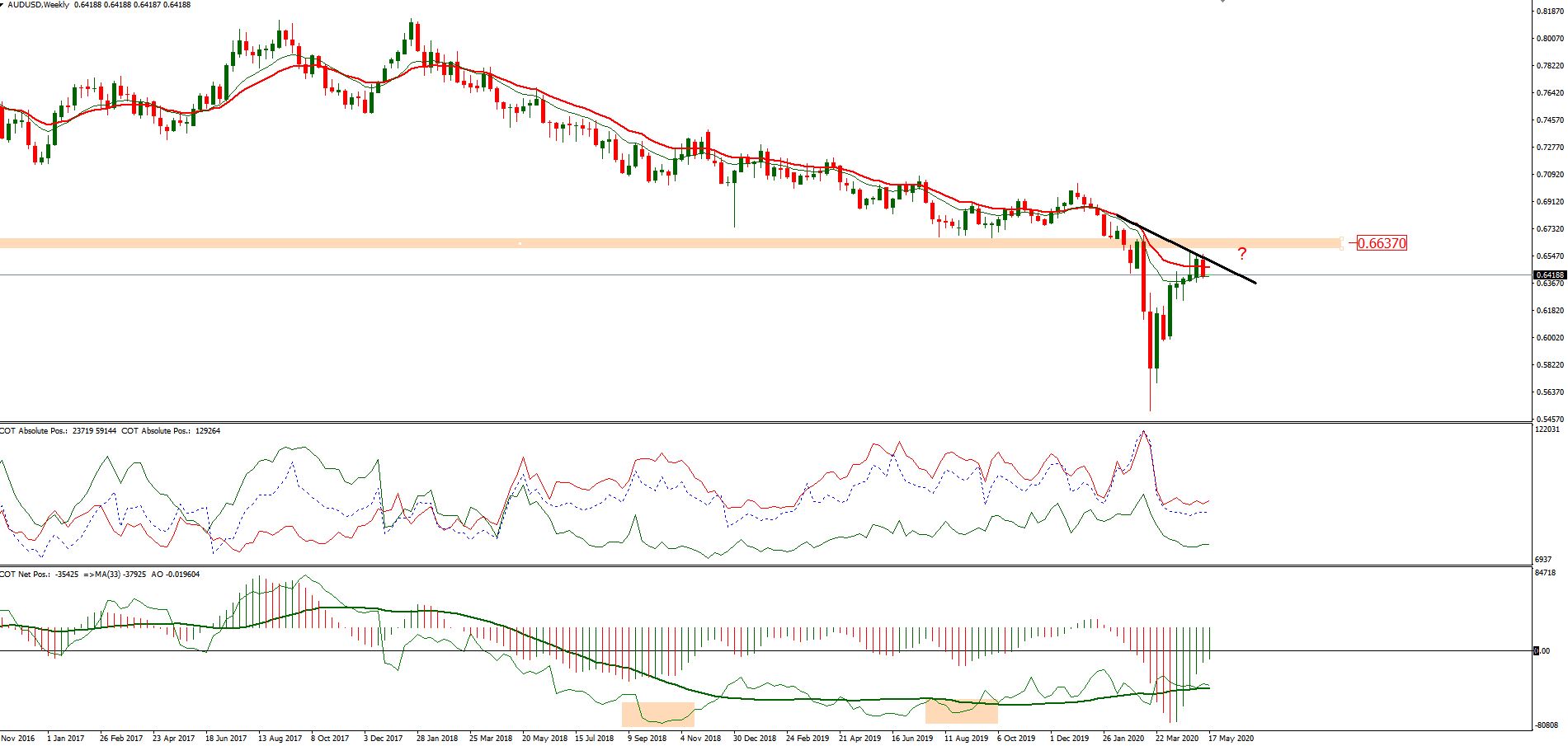 Positions:
Speculators added 2.1K new shorts and left their longs unchanged. This is a bearish bias for AUD futures traders. Speculators were 35.4K net short and it was changed from being 33.4K in the previous week. The price action was trading down and I expect this to continue
Strategy:
Sell AUDUSD on rallies
---
---
CAD – Canadian Dollar Futures
My Bias: Neutral USDCAD
USD/CAD continues to trend down as oil shows strength and the U.S. dollar is losing ground against a broad basket of currencies.
The better-than-expected U.S. Non Farm Payrolls and Unemployment Rate reports have initially provided support to the American currency, but the U.S. Dollar Index failed to get above the 100 level and declined closer to 99.5.
The reports showed that job losses were smaller than previously expected, although the U.S. economy still lost as much as 20.5 million jobs and the Unemployment Rate skyrocketed to 14.7% as virus containment measures dealt a heavy blow to many industries.
However, the market got accustomed to worse-than-expected reports so the news was considered as a positive catalyst and led to increased buying of riskier assets like the Canadian dollar.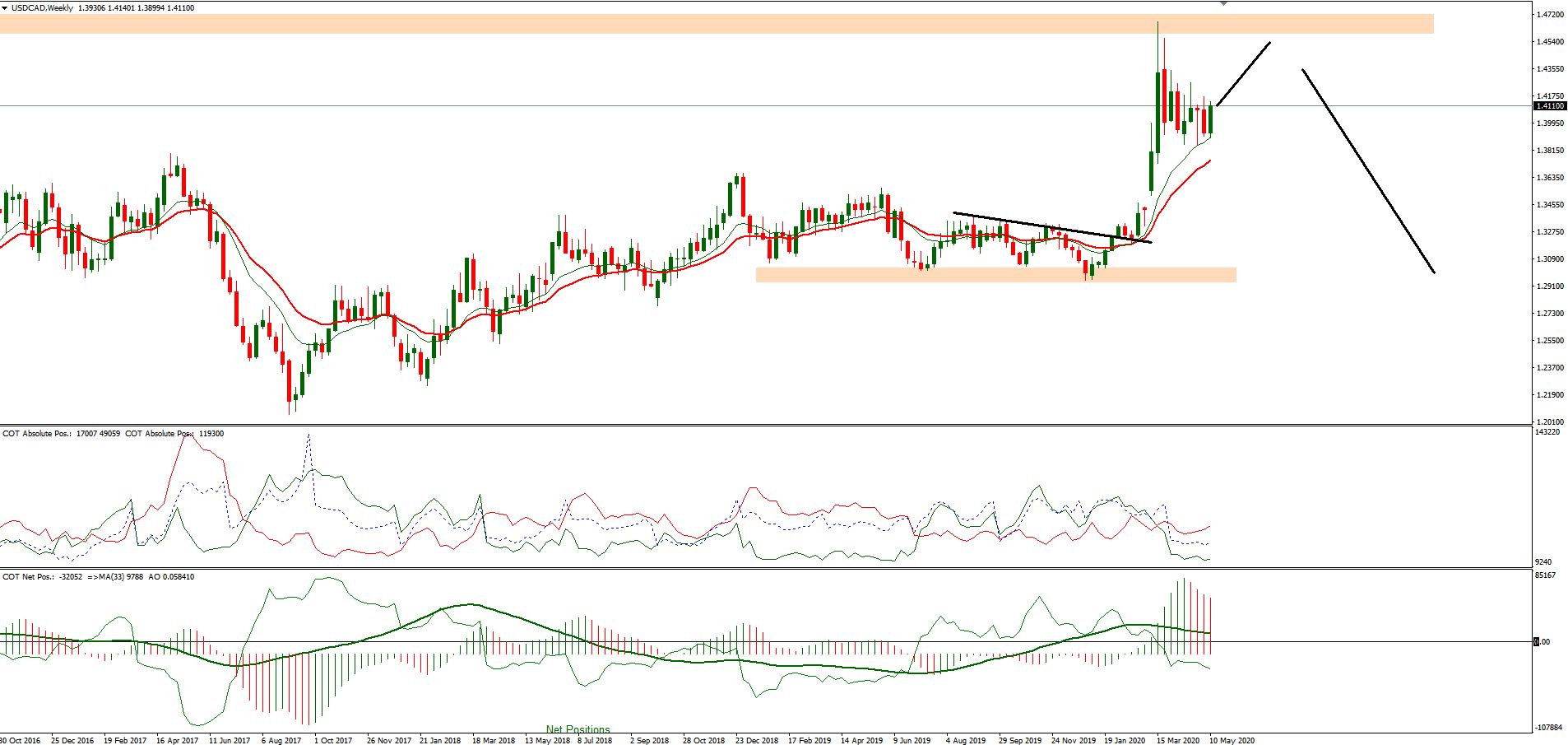 Positions:
There were no meaningful adjustments in positions this week. My analysis from the previous week stands valid:
Speculators were clearly bearish this week again. They added only 975 of long positions and almost 4K of short positions. They were 32K net short, which was changed from 29K in the previous week. There is no strategy for now but my bias would be to the downside from here.
Strategy:
Pause
---
---

TRY OUR POPULAR COURSES & STRATEGIES

Dan
Thank you so much for your concern and support ever since I subscribed to HumbleTraders, it has really helped me immensely.
Your weekly fundamental analysis(COT REPORT), Daily Technical analysis and the risk event tracker are the best analysis I have come across so far, I unsubscribed to all other trading sites and decided to only concentrate on HumbleTraders because it was giving me all that I wanted in order to understand the market.
Emmanuel
Just wanted to say that your overall trading technique is really good including your daily/weekly analysis . So thank you for this. It's taken a while to get to where I am and I can see why you do things the way you do.
Tanner
"You have a very good blend of technical and fundamental analysis. To be honest I wish I found you a long time ago, I have been through so many programs and mentors that its ridiculous. I have adopted a trading style that works for me and as long as I stay disciplined with trade size I do well overall."
Steve
Hello I trade based an the work of larry Williams and Stephen briese and there knowledge of the COT report. Two living legends, and after reading your analysis during my free trial I now know I am dealing with another legend, I look forward to the future and what you have to teach.
Simone
Hi Roman, I'd like to say I have learned a lot from using your strategies, fundamentally and technically. Thanks for making trading more clearer and simplified. Please keep up the good work and thank you very much.
Carlton
I wont lie. Your services are exceptional. I have been on the trial membership for now but i don't see a reason NOT to continue. I have joined a lot of services like this just to compare and see which one suites me particularly, BUT not only does HUMBLE TRADERS suite me,I'm sure it can suite everyone out there!!! Without doubt you guys are the best. You make trading soo easy,,hell trading is easy only if you trading with the right guys AND you guys are the right ones.
Frank
I have found Roman's analysis to be consistently reliable and accurate. Their customer service is excellent and they always answer queries promptly. Really enjoying the analysis and learning a lot as I go.
Martin
Just wanted to share the fun. I've been a member for a few hours now, and based upon your USDJPY analysis going into Wednesday, I placed a short trade before taking my family out for sandwiches this evening. When we returned, I banked +56 pips! Off to a fantastic start.
Martin
Denis
Humbletraders is a breath of fresh air. Their signals and analysis are both easy to follow and consistently profitable. On the occasion that I have any questions, it is great to be able to draw on Roman's impressive knowledge of trading. Thanks for helping me get my trading back on track.
Scott
Morning,
Thank you for sorting this out so quickly and for the refund 🙂
All sorted and have access… as a side note, really enjoying the analysis and learning a lot as I go.
Cheers