C.O.T Report – Week 13. No signs of GBP shorts despite Brexit saga


The Weekly Commitments of Traders Report
Know what the "smart money" is up to
The Commitments of Traders Report is issued by CFTC.
It reports all open positions in futures markets of three main groups of traders:
Commercial Traders – Hedgers
Non-Commercial Traders – Money Managers
Non-Reportable – Retail market
The report breaks down each Tuesday's Open Interest and gives us a powerful view on what exactly the big guys have been doing in the marketplace and what their plans might be.
It is issued every Friday and includes data from Tuesday to Tuesday.
The three days prior to the release date are not included.
This is an essential tool for gauging long term sentiment in futures markets.
NOTE:
In this report, we cover EURO, GBP, AUD, JPY, CAD, and we focus on Non-Commercial traders as an indication of a profit driven bias.
---
---
C.O.T Positioning
EURUSD:Bearish
GBPUSD: Bullish
AUDUSD: Bearish
USDJPY: Bearish
USDCAD: Bullish
---
---
EURO – Euro Futures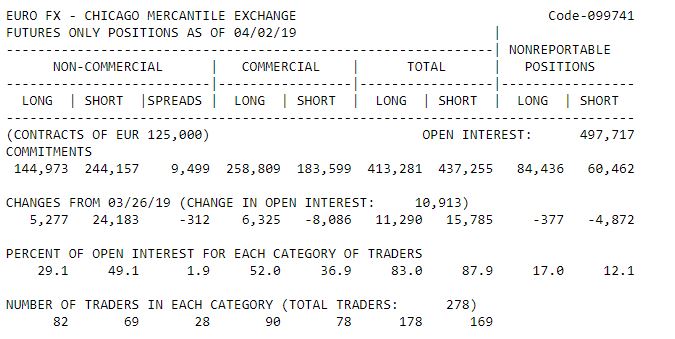 My Bias: Bearish
The manufacturing sector in Europe continues to struggle. This was underscored in German and eurozone manufacturing PMIs in February, which remained below 50, indicative of Düğün organizasyon contraction. No less worrying, the PMIs continued their downward trend – both the German and eurozone indicators have lost ground for seven successive months.
Given the old adage that 'the trend is your friend', we expect the pair to continue lower as it maintains a sloping channel but the speculative positions show a strong Düğün fotoğrafçısı signals of this market bottoming out fairly soon.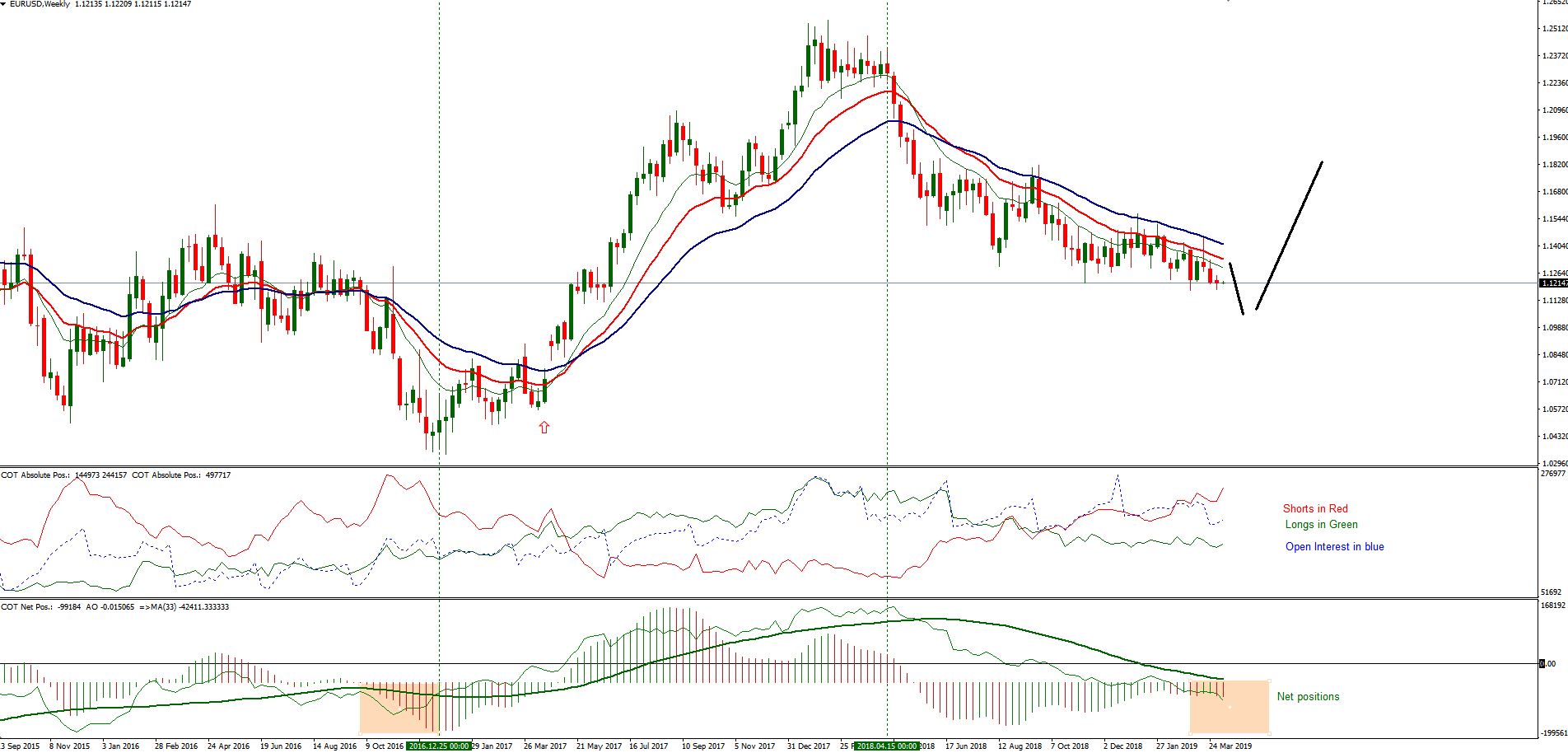 Positions:
There was a major shift in speculative EUR Futures this week. Smart Money added new 5.2K long positions, but at the same time they also added whooping 24K of shorts.They were 99K net short, which is up from 80K in the previous week. The share of open interest was at 49% this week, which is now extreme and suggests this market is now oversold. Gross short positions ( 244K ) were highest Tanıtım film since Nov 2016 where the EURUSD bottomed out and started a serious up-trend. This is now playing out again.
Strategy:
The price is likely to continue to drop but the bottom is likely to carve soon. Build up long term long positions.
---
---
GBP – British Pound Future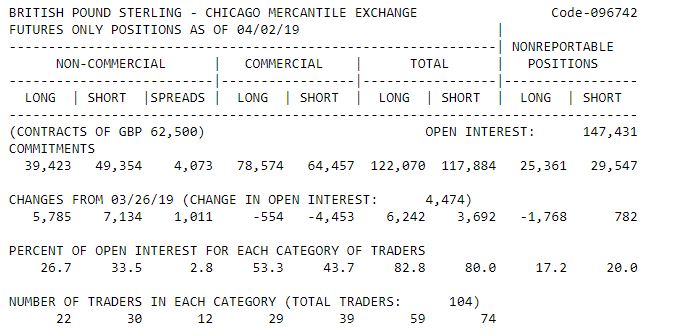 My Bias: Becoming bullish GBPUSD long term
The granting of a lenthy Brexit delay – or alternatively, no delay at all – by the EU will determine where the Pound-to-Dollar exchange rate ends the week. Domestically, a breakthrough in talks between Labour and the Conservatives could spur a rally to fresh multi-month highs as this would suggest a Brexit deal can finally command the support of the House of Commons.
From a technical perspective, the pair has now broken below a key trendline which suggests a broadly bearish wash to the outlook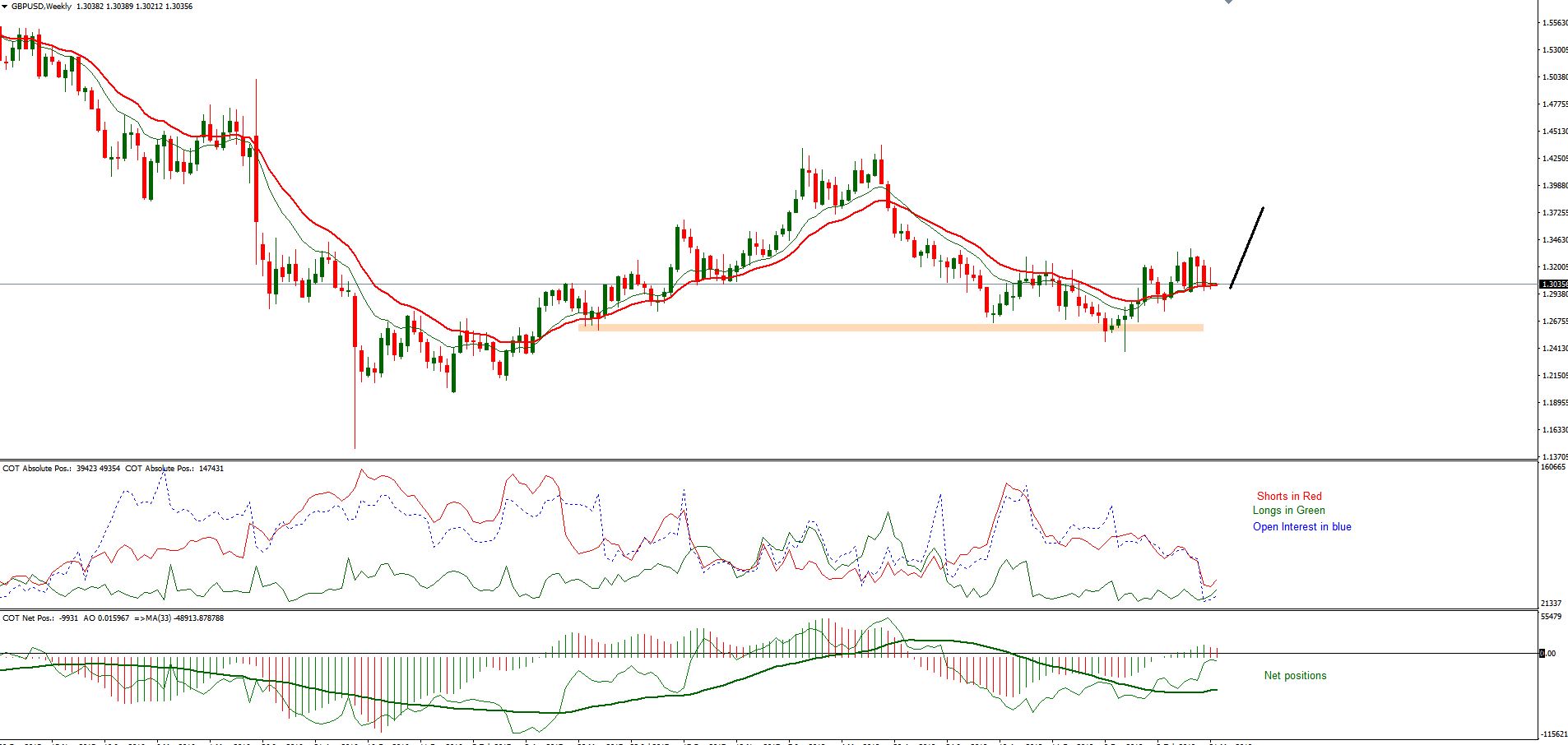 Positions:
No much change to the bullish sentiment has been present in this market in the last few weeks. Speculators added 5.7K new longs and 7.1K new shorts to their portfolios. They were 10K new short, slightly changed from being 8.5K in the previous week. This is treated as bullish to me as the speculative positions are trending above 33 weeks moving averages. GBP will surprise the market to the upside, watch it!
Strategy:
Expect short term downside in GBPUSD but long term long positions are preferable.
---
---
JPY -Japanese Yen Futures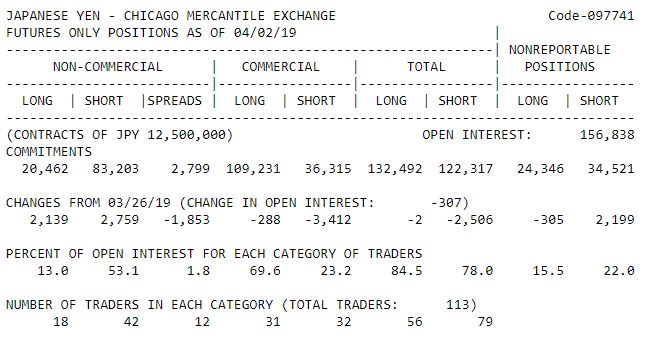 My Bias: Bearish USDJPY
The pair closed higher last week with the Forex pair closing higher four out of five sessions. The move started on April 1, driven by a drop in Japanese government bonds. The rally was supported as risk aversion in the broader financial markets eased, dimming the appeal of Japanese safe-haven debt. The catalyst behind the move was encouraging manufacturing activity data from the United States and China.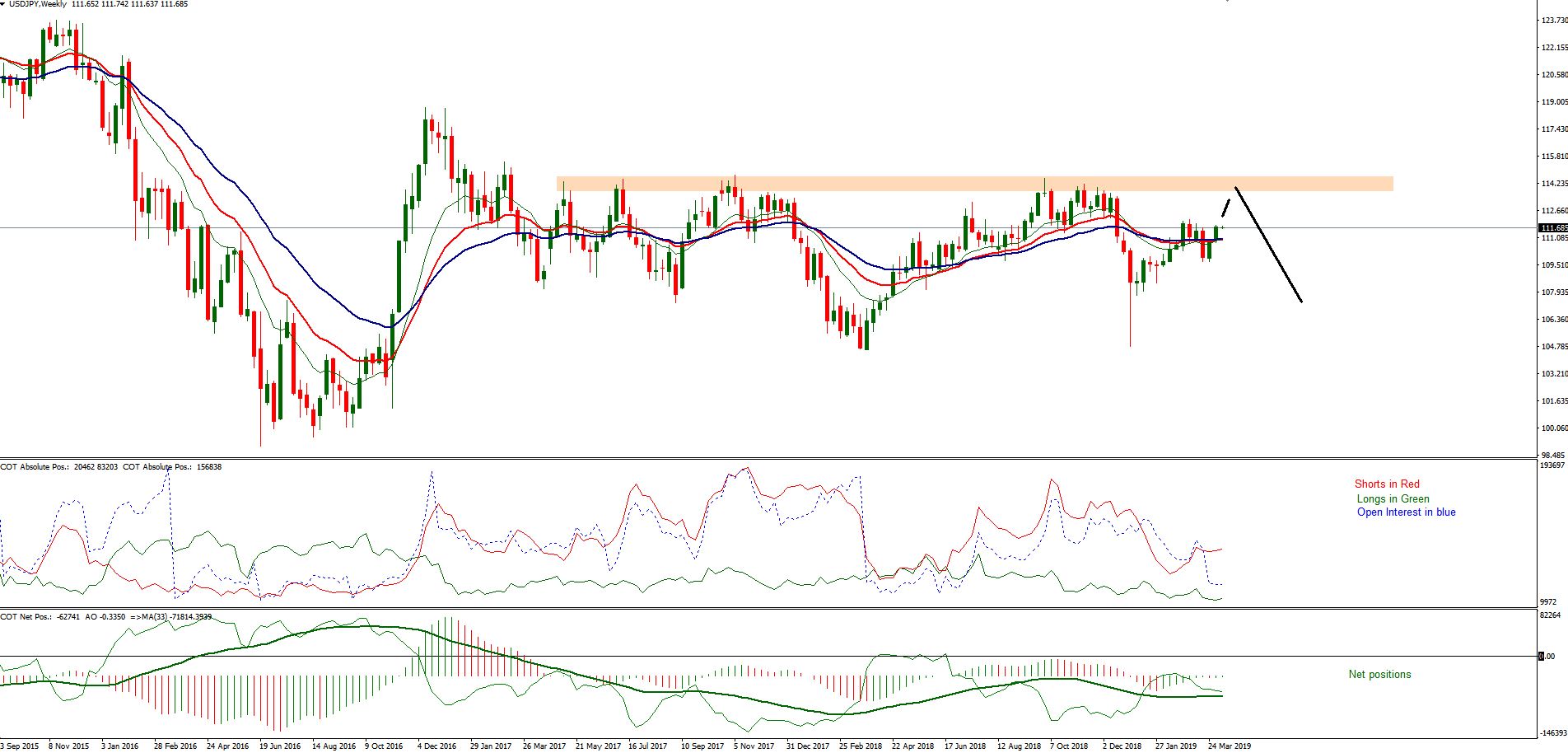 Positions:
No much change from the previous week. Speculators added 2.1K new long positions and 2.7K new short positions. They were 62.7K net short, almost unchanged from the last week ( 62.1k ). I expect USDJPY to keep going up towards 114.50
Strategy – no change:
Still biased towards the downside here. Will be looking to sell off the resistance at 114.00
---
---
AUD -Australian Dollar Futures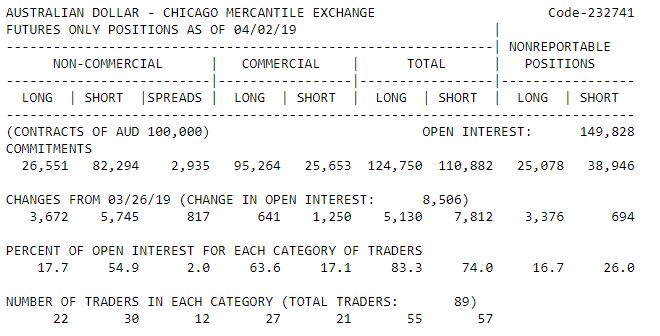 My Bias: Mixed/Bearish AUDUSD
"Analysts at Commerzbank explained that AUD/USD is holding just below the near term downtrend at 0.7127 and while capped here, near term risks remain on the downside"
The speculative positions confirm bearish outlook.
Positions:
Speculators added new 3.6K longs but also 5.7K new shorts. They were 55.7K new short, which was up from 53K last week. Share of open interest was at 55% last week. It grew from 42% three weeks ago. The "tipping point" for this market sits at around 63% so there is still plenty room for AUSSIE to decline. More downside is likely
Strategy:
Sell AUDUSD on rallies towards the resistance.
---
---
CAD – Canadian Dollar Futures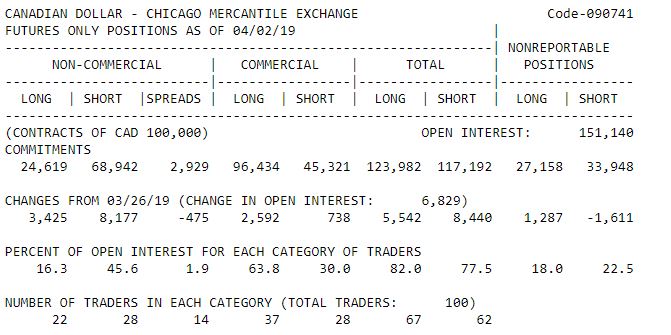 My Bias: Bullish USDCAD
The Canadian dollar is slightly lower in the Friday session. Currently, USD/CAD is trading at 1.3383, up 0.18% on the day. The spotlight is on employment numbers on both sides of the border. In the U.S. nonfarm payrolls came in at 196 thousand, easily beating the estimate of 172 thousand in March. Still, this estimate is significantly lower than the December and January releases, both of which were above the 300-thousand level.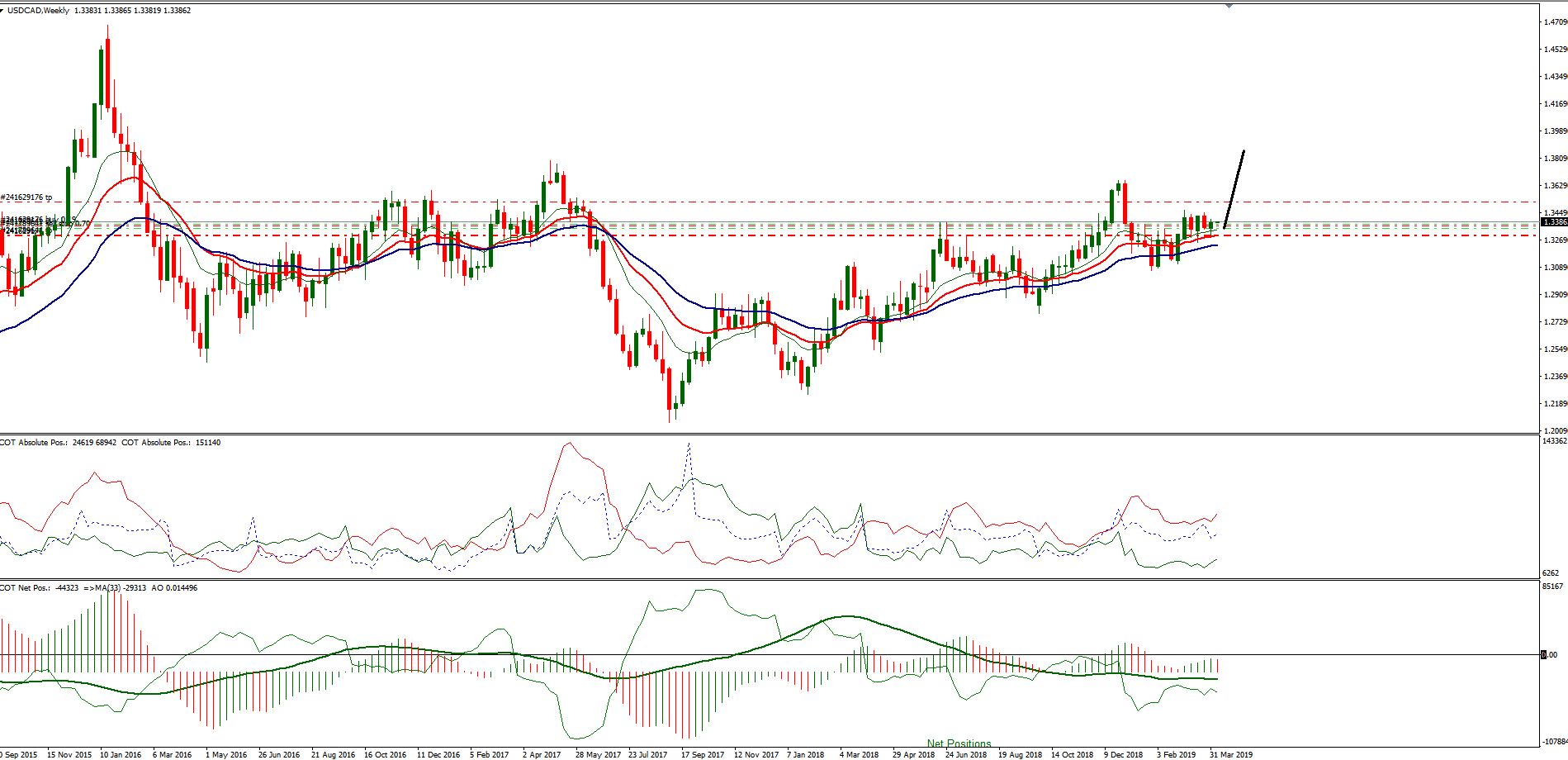 Positions:
Speculators shifted their positions agin. This week, they added 3.4K new longs but, at the same time they added 8.2K new short positions. This is after they covered 3.2K of their shorts in the previous week. It looks like to the long USDCAD is back on!
Strategy:
Buy USDCAD on dips in the short term.
---
---

TRY OUR POPULAR COURSES & STRATEGIES

Dan
Thank you so much for your concern and support ever since I subscribed to HumbleTraders, it has really helped me immensely.
Your weekly fundamental analysis(COT REPORT), Daily Technical analysis and the risk event tracker are the best analysis I have come across so far, I unsubscribed to all other trading sites and decided to only concentrate on HumbleTraders because it was giving me all that I wanted in order to understand the market.
Emmanuel
Just wanted to say that your overall trading technique is really good including your daily/weekly analysis . So thank you for this. It's taken a while to get to where I am and I can see why you do things the way you do.
Tanner
"You have a very good blend of technical and fundamental analysis. To be honest I wish I found you a long time ago, I have been through so many programs and mentors that its ridiculous. I have adopted a trading style that works for me and as long as I stay disciplined with trade size I do well overall."
Steve
Hello I trade based an the work of larry Williams and Stephen briese and there knowledge of the COT report. Two living legends, and after reading your analysis during my free trial I now know I am dealing with another legend, I look forward to the future and what you have to teach.
Simone
Hi Roman, I'd like to say I have learned a lot from using your strategies, fundamentally and technically. Thanks for making trading more clearer and simplified. Please keep up the good work and thank you very much.
Carlton
I wont lie. Your services are exceptional. I have been on the trial membership for now but i don't see a reason NOT to continue. I have joined a lot of services like this just to compare and see which one suites me particularly, BUT not only does HUMBLE TRADERS suite me,I'm sure it can suite everyone out there!!! Without doubt you guys are the best. You make trading soo easy,,hell trading is easy only if you trading with the right guys AND you guys are the right ones.
Frank
I have found Roman's analysis to be consistently reliable and accurate. Their customer service is excellent and they always answer queries promptly. Really enjoying the analysis and learning a lot as I go.
Martin
Just wanted to share the fun. I've been a member for a few hours now, and based upon your USDJPY analysis going into Wednesday, I placed a short trade before taking my family out for sandwiches this evening. When we returned, I banked +56 pips! Off to a fantastic start.
Martin
Denis
Humbletraders is a breath of fresh air. Their signals and analysis are both easy to follow and consistently profitable. On the occasion that I have any questions, it is great to be able to draw on Roman's impressive knowledge of trading. Thanks for helping me get my trading back on track.
Scott
Morning,
Thank you for sorting this out so quickly and for the refund 🙂
All sorted and have access… as a side note, really enjoying the analysis and learning a lot as I go.
Cheers
Author: Roman Sadowski
I truly believe the journey to profitability and freedom is a function of hard work, commitment, persistence and boring routines There is no magic to trading. I believe in making calm rational decisions what, when and how to trade based on a decade of intense learning. Visit us at
Humble Traders